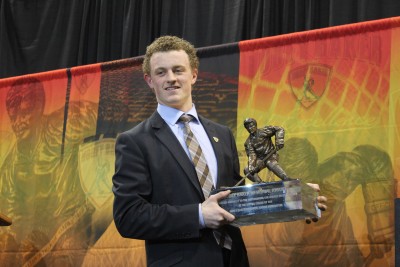 Entering the collegiate ranks as perhaps the most anticipated hockey prospect in the last 20 years, Boston University freshman center Jack Eichel was aware of the hype surrounding his game.
Rather than shun the spotlight, however, the promising forward embraced it.
"I think I obviously put pressure on myself, but I think that brings out the best in me," Eichel said before the season began. "I expect myself to get in here and try to be a difference maker every time I get put on the ice by Coach [David] Quinn and whatever situation that he asks of me."
So far, Eichel has backed up his talk — and so much more.
In the midst of one of the most dominating freshman campaigns in college hockey history, Eichel earned the sport's top individual honor, receiving the Hobey Baker Award Friday evening at Matthews Arena.
The award, now in its 35th incarnation, is annually given to the top player in NCAA Division I Hockey.
"It was really nice to hear my name," Eichel said after the award ceremony. "My mom and dad are sitting there in the front row. I got choked up for a minute talking, just because I looked down and I saw my mom and she was crying, so it choked me up for a minute, just because of how important my parents are and everything they've done for me.
"I can't say enough good things about them. I wouldn't be nearly the player or person I am today if it wasn't for them. I could stand here and talk about them for days."
Eichel now stands as the third BU player in program history to hoist the coveted award, joining forward Chris Drury (1998) and defenseman Matt Gilroy (2009).
The talented forward is just the second freshman in NCAA history to earn the award, following in the footsteps of Maine forward Paul Kariya, who tallied 100 points in the 1992-93 season.
Eichel beat out fellow finalists in Harvard forward Jimmy Vesey and University of North Dakota goaltender Zane McIntyre for the award. Eichel tallied two goals and an assist against McIntyre Thursday in BU's 5-3 win over UND (29-10-3) in the Frozen Four semifinal game.
The former captain of the U.S. men's national junior hockey team has been nothing short of brilliant in his rookie campaign with the Terriers, leading the nation in points (70), assists (44), and plus-minus (plus-51). Of the 39 games that Eichel suited up for this season, he was only held off the scoresheet six times, while posting three or more points in 12 contests.
"I had a rosary bead in my coat pocket, said Harvard head coach Ted Donato when asked how his team was able to hold Eichel off the score sheet on November 25. "It certainly didn't feel like he didn't have points tonight. He's dynamic."
Eichel has been a key reason to the Terriers' 18-win turnaround in the 2014-15 season, with the team posting an 18-0-0 record when he lights the lamp.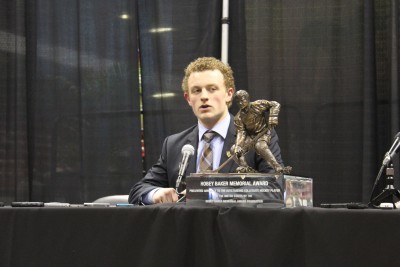 The North Chelmsford native has already amassed a multitude of individual accolades this season, earning Hockey East Player of the Year, Rookie of the Year and Tournament MVP after posting 44 points in 22 league games and helping the Terriers secure their first conference championship in six years.
Winning both Hockey East Player and Rookie of the Year puts Eichel in elite company, as the only other two players to reach that feat were Kariya and Boston College product — and Hall of Fame defenseman — Brian Leetch (1987).
"I jokingly say he's kind of like the Secretariat of a hockey player," Quinn said of Eichel on March 22. "If you ever watch Secretariat run, he just looks so different than all the other horses. Jack is very much in that mold."
Eichel's numbers are not only impressive within the context of this season, as many of his totals rank high up in the Terrier record books. He ranks as the highest scoring freshman in program history, and is the first Terrier skater to compile 70+ points in a season since Shawn McEachern reached 84 points in 1990-91.
While Eichel admitted that claiming the award was certainly an honor, he acknowledged that the only way to truly cap off his freshman season on a perfect note would be a win in the national championship game Saturday against Providence.
"We have one game left," Eichel said. "We didn't dream about getting to the Frozen Four, we dreamed about winning it. We're really excited for the opportunity tomorrow."