Ten Boston University Terriers were honored this Tuesday at the annual student-athlete awards reception at Agganis Arena. Nine seniors were selected for awards along with lone freshman Jack Eichel of the men's ice hockey team, who had one of the best statistical seasons in school history.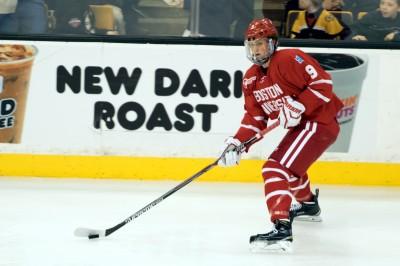 Eichel was the headliner at the ceremony, as he has been all season for the Terriers. Just the second freshman ever to win the Hobey Baker Award, given to the nation's best men's ice hockey player, Eichel led the nation in points with 71 from an impressive 26 goals and 45 assists. On Tuesday, he took home more hardware, winning the Gordon "Mickey" Cochrane Award, given to the best overall male Terrier athlete. Women's ice hockey star Marie-Philip Poulin won the Mildred Barnes Award for best female athlete.
A pair of soccer players were given the awards for the top male and female scholar-athletes this year. Nick Thomson of the men's soccer team took home the E. Ray Speare Award after leading the soccer team to a Patriot League regular season title, while Kai Miller of the women's team won the Gretchen Schuyler Award following arguably the best season of her career.
Field hockey senior Valentina Cerda Eimbcke was named 2015 BU Woman of the Year, and women's rowing coxswain Eline Vermeulen won the Student-Athlete Service Award.
The John B. Simpson Award for best display of enthusiasm and leadership was given to three Terrier standouts in women's golfer Kristyna Pavlickova, men's soccer player Jordan Barker, and men's ice hockey co-assistant captain Evan Rodrigues. Like Thomson, Barker emerged as a leader for men's soccer. Rodrigues stepped up his game this season on the ice, helping the Terriers advance to the Frozen Four for the first time since their 2009 championship run.
Men's ice hockey graduate student Anthony Moccia was the fourth recipient ever of the Terrier Pride Award, receiving the award for his enthusiasm and unselfish attitude. His undergraduate 3.50 GPA was a team-best.
Patriot League Titles Within Reach for Men's Tennis, Women's Golf
In a year that has already seen a national championship berth from men's ice hockey, a Patriot League title for field hockey and women's soccer as well as many other accolades, a number of Boston University spring sports teams are vying for their place among Patriot League champions. Men's tennis will begin its quest for the Patriot League title this Friday against Lehigh University, while the women's golf team will play in the Patriot League Championship this weekend at the United States Naval Academy.
The third-ranked Terriers tennis team (6-6) is seeking the program's first conference title since 1996 and its first ever NCAA tournament appearance. The squad matches up against sixth-seeded Lehigh (12-9) in the quarterfinals, and if they advance, the semifinals will take place the following afternoon against the winner of the Navy/Loyola University Maryland matchup, with the Patriot League final taking place on Sunday.
Chosen as the preseason favorite by the league's coaches and information directors, the women's golf team will begin playing in the Patriot League Championship in a two-day event starting on Saturday. Last year's season ended with a second-place finish for the Terriers, but they will look for a better outcome this weekend. The play of sophomore Adela Cejnarova, fresh off her victory on Monday at the Brown Invitational, will be key to their success.
Field Hockey Announces Class of 2019
After clinching a Patriot League championship and a berth in the NCAA Tournament in 2014, the Boston University field hockey team announced its six-member Class of 2019 on Thursday.
BU coach Sally Starr, who has 10 of 11 starters from her 2014 team returning next year, will welcome the sextet to campus in fall of 2015.
Starr's new student-athletes are full of talent. Maika Akroyd, a Gisborne, New Zealand native, brings with her U18 and U21 experience.
Joining Akroyd will be three players who garnered NFHCA All-American recognition during the 2014 season. Allie Doggett, who hails from Watertown, earned first-team honors, while Kara Enouch of Yorktown, Virginia earned second-team honors. Ally Hammel of Duxbury earned a third-team nod as well.
Capping off the six-member class is Bridget Egan of Broomall, Pennsylvania and Kathleen Keegan of West Hartford, Connecticut, who was a two-time all-state goalkeeper.
Men's Lacrosse Sells T-Shirts in Honor of Lingzi Lu
Boston University lost graduate student Lingzi Lu in the 2013 Boston Marathon bombings, and the BU men's lacrosse team has been doing its part this week to honor Lu's passing.
Members of the team were in the George Sherman Union between Monday and Friday selling blue and yellow T-shirts for $10 to BU students, faculty and staff alike. All proceeds will be donated to the Lingzi Foundation's scholarship fund, which seeks to honor the loving, compassionate and fearless example Lu set forth.
In addition to the team's T-shirt campaign, Lu's family will be honored prior to Friday night's game against the College of the Holy Cross on Nickerson Field.