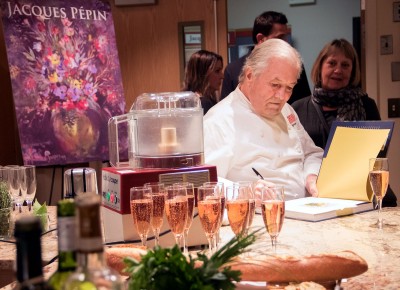 It's 5:45 p.m. on Thursday evening and a sense of relative calm has settled in the kitchen in the Boston University 808 Gallery. Eleven white-aproned Metropolitan College Culinary Arts students wearing red BU hats pass pastry-laden trays into industrial ovens as world-renowned chef, cookbook author and television host Jacques Pépin moves purposefully and confidently through the kitchen. He guides the students and offers advice in his French-accented English. They have been busy since 1 p.m., preparing a meal for 70 people for whom Pépin will soon cook in the building's demonstration kitchen.
Pépin has been intimately involved in BU's Gastronomy and Culinary Arts programs since their inception in 1991. Interest for BU programs that combined academic study with food studies arose when the School of Hospitality built a state-of-the-art kitchen in the mid-1980s. Then-BU vice president Joseph Meng, who served briefly as the president of the Culinary Institute of America, wanted to breathe life into the kitchen, which was woefully underused.
Meng contacted Rebecca Alssid, a former lecturer in BU's Evergreen program and requested that she get in contact with big names in the food industry to rev-up interest and assign a sense of credibility to the fledgling project.
"[Meng] told me to get in touch with Julia Child, so I looked her up in the White Pages and called her and she happily accepted.  Then I got in touch with Jacques and the program developed from there," Alssid said.
Thus, the Gastronomy Program, a master's program with an interdisciplinary, academic and experiential approach to food studies, and the Culinary Arts Program, a certificate program that provides students with a more hands-on approach to cooking, were formed. The two, both conducted through MET, are distinct but overlapping, a relationship that Culinary Arts Program supervisor Lisa Falso describes as "sister programs."
While certificate programs in culinary arts are relatively common, BU's Gastronomy Program was the first of its kind in the country. The program's distinct blend of cultural, historical and anthropological academia with actual kitchen experience remains unique.
"Similar programs are becoming more popular and gaining more recognition, but gastronomy is still a minor field of study," said Potter Palmer, the director of food and wine programs.
In an effort to engage the public with the programs' passion for cuisine, they host seminars and events that are open to the public. There is usually about one event per week, with 12 to 16 guests that include students, friends and family of the programs, BU faculty and staff and members of the Boston food industry.
Pépin comes once a semester and, unsurprisingly, his events typically generate the most interest. Each semester, Pépin prepares a unique menu structured around a single theme. Last semester's "World of Eggs" theme featured caviar and different egg dishes. Thursday's program, "On Cooking and Painting," was split into two nights, with 70 to 80 guests each night.
"On Cooking and Painting" combined two of Pépin's passions: art and food. In addition to being a lauded chef, Pépin is also a prolific watercolor painter. He painted the simple but beautiful menus that sat at each guests' place. Several of his paintings were hung outside of the demonstration kitchen, to be auctioned off at the end of the night. Proceeds from the ticket sales and auctions go to the Jacques Pépin Fund, which funds speaker and lecturer stipends.
But the real star of the night was the food. Pépin prepared two starters, two main dishes and a dessert. All were rustic French recipes from Pépin's autobiography, "Chez Jacques," of which each attendee received a copy.
"[This is] country food," Pépin said. "The food of my mother. The food of my aunt. The type of food that will stay with you forever."
Dishes included duck pâté, chicken with morel mushrooms and rice pilaf, handmade pistachio and truffle sausage and an apple and hazelnut tart.
Pépin was relaxed throughout the demonstration and answered attendees' questions about wine selections, cutting techniques and ingredient selection. It was clear that Pépin was there not only to cook but also to instruct. His prowess as a teacher was also evident through his obvious mastery of kitchen techniques. He cut, sautéed and filleted while joking with attendees, barely having to look down. The cooking, just as the teaching, seemed to come naturally.
"Professional chefs are craftsmen," Pépin said. "After 65 years, it becomes automatic."