The Boston University men's basketball team has received a commitment from Siena College transfer Javion Ogunyemi. According to NCAA transfer rules, the sophomore forward will sit out for the 2015-16 season, but will have two years of collegiate eligibility remaining.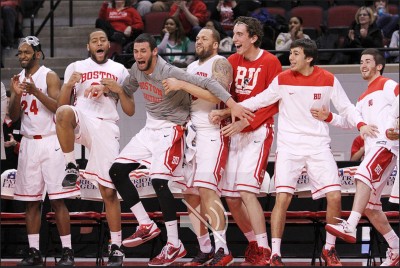 Following a freshman campaign which saw him battle an ankle injury and lose his starting spot, Ogunyemi rebounded, starting 28 games for the Saints as a sophomore. He averaged 9.3 points and 4.8 boards per game, both significant increases from his freshman year averages.
An efficient scorer, Ogunyemi shot 54.6 percent from the field last year, a figure that will benefit a Terriers squad that saw just one player, junior forward Justin Alston, shoot above 50 percent for the season.
At 6 feet 8 inches, Ogunyemi will also provide BU with another post presence to go along with Alston and junior forward Nathan Dieudonne. Ogunyemi registered 48 blocks as a sophomore, just eight shy of the Terriers' total as a team last season.
Before arriving in Albany, NY, Ogunyemi starred for his hometown high school in Troy, NY, leading the team to a New York State semi-final appearance as a senior. The big man also received Third Team All-State honors as a senior and was named three times to the All-Area First Team.
After a 13-17 record last year, the Terriers hope Ogunyemi can make an impact on both ends of the floor for the 2016-2017 season and beyond.