Boston University is seamlessly integrated into the city, which gives students a chance to immerse themselves in city culture and witness changes in Boston. This fall, Massachusetts voters elected a new governor who has tackled diverse issues during his first few months in office. This spring, all eyes were on Boston for the trial of Dzhokhar Tsarnaev, one of the men responsible for 2013 Boston Marathon bombings.
City officials will explore hosting capabilities for the 2024 Summer Olympics and decide how to improve the MBTA to best serve riders. We here at The Daily Free Press will bring you coverage of the growth and changes from City Hall, the State House and the neighborhoods of Boston, starting here.
Boston Marathon bomber receives death penalty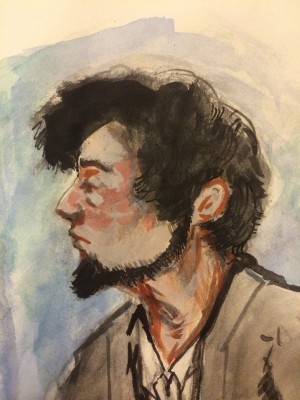 Dzhokhar Tsarnaev was charged with placing two bombs at the Boston Marathon finish line with his brother Tamerlan on April 15, 2013. The blasts injured nearly 300 and killed three. The brothers were also accused of shooting Massachusetts Institute of Technology Police Officer Sean Collier. Following a police chase in Watertown on April 19, Dzhokhar ran over and killed his brother Tamerlan. Later, police found Dzhokhar hiding inside a boat.
Family, friends and experts appeared in court to make sense of what happened, as well as to judge Tsarnaev's character and his possible motivations. The defense painted him as led astray by his brother while the prosecution depicted him as an individual acting in his own interest. After a month of testimony, the jury found Tsarnaev guilty of all 30 of the charges leveled against him, 17 of which carried the death penalty.
Trial continued into the penalty phase for the jury to decide a life in prison or death sentence for Tsarnaev. Following two months of trial and only 14 hours of deliberation, the jury sentenced Tsarnaev to death on six of the 17 charges carrying the death penalty. Tsarnaev will appear in court on June 24 for sentencing.
Charlie Baker elected governor of the Commonwealth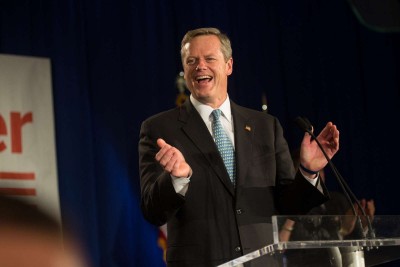 In a close gubernatorial race featuring five candidates, Republican Charlie Baker emerged victorious with just over 48.3 percent of the vote. Former Massachusetts Attorney General Martha Coakley finished close behind with 46.7 percent of the votes. Other candidates included attorney Evan Falchuk, venture capitalist Jeff McCormick and pastor Scott Lively. Approximately 48.98 percent of registered voters participated in the 2014 general election in November.
Since taking office in January, Baker has focused on various initiatives including balancing Massachusetts's budget, reducing homelessness and addressing the Commonwealth's opioid abuse crisis. The FreeP will continue to follow Baker throughout the fall and see what changes be brings to the Commonwealth.
Calls for MBTA reform come after harsh winter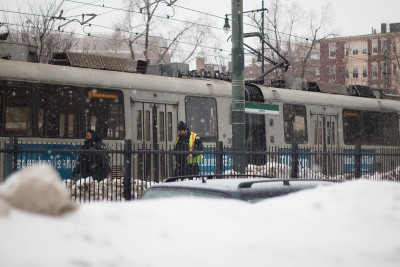 When Winter Storm Juno brought unprecedented amounts of snow to New England, the Massachusetts Bay Transportation Authority system faced multiple delays and closures. Even after Massachusetts Gov. Charlie Baker lifted the state of emergency that closed businesses and transportation services, the T faced difficulties with clearing the tracks to fully resume service. Amid criticism from the state government and residents, MBTA General Manager and CEO Beverly Scott stepped down. 
Operation during the winter sparked greater conversations about the system's performance and reliability. Baker ordered a panel to evaluate the MBTA's management and other areas including fund allocation, maintenance and decision-making. The panel found an unsustainable budget, an unstable leadership  and a lack of accountability among the T's problems. In turn, the panel recommended a new board to oversee money and management operations. Baker has also introduced legislation to reform the MBTA. We will continue to follow plans for the T and how they will affect riders.
Boston wins U.S. bid for the 2024 Summer Olympics 
In January, the United States Olympic Committee selected Boston as the U.S. bid for the 2024 summer games, beating Los Angeles, San Francisco and Washington. September 15 is the deadline to declare Boston as an applicant for the summer games. The International Olympic Committee will release a shortlist of candidate cities in the spring of 2016 and will elect the host city in the summer of 2017.
To have transparency during the process, the Boston 2024 Executive Bid Committee released bid documents and planned to host community meetings. The first of nine meetings began in February and will continue until the end of September. City leaders and residents have had the opportunity to talk about planning efforts and the potential effects of hosting the Olympics.
Medical marijuana dispensaries proceed, legalization considered
After a 2012 referendum legalized medical marijuana in Massachusetts, efforts to set up dispensaries are still underway nearly three years later. Initiatives for regulation that began under former Massachusetts Gov. Deval Patrick reduced the number of original dispensary applicants from 181 to 20. Two dispensaries originally set to open in Boston, Green Heart Health and Pharmaceuticals and Good Chemistry of Massachusetts , were among the dispensaries eliminated further down in the application process.
In November, the Massachusetts Department of Public Health approved four more dispensaries, bringing the number to 15. All have received provisional certificates, passed through the inspection phase and are pending approval to grow and sell. The DPH also revamped the dispensary process, which was installed May 15, to be more efficient and open for patients and operators.
In addition to medical use, lawmakers and advocacy groups have pushed for legalizing recreational marijuana. In March, 15 Massachusetts lawmakers supported a bill that would allow marijuana to be regulated similarly to how alcohol is. Another effort comes from the group Bay State Repeal, which filed a draft of a 2016 ballot petition in April. Leaders including Boston Mayor Martin Walsh, Massachusetts Gov. Charlie Baker and Massachusetts Attorney General Maura Healey have expressed opposition to legalizing marijuana.
LGBT groups march in St. Patrick's Day Parade for the first time
OUTVETS, an organization for LGBT veterans, and Boston Pride marched in the 2015 St. Patrick's Day parade, marking the first time gay pride groups have participated. The South Boston Allied War Veterans Council decided in a 5-4 vote to include OUTVETS. Previously, sponsors used their ability with a private parade to exclude certain groups. Showing support for the LGBT community, Boston Mayor Martin Walsh boycotted the parade in 2014 when gay groups were not allowed to march. Several groups such as the Knights of Columbus and the Immaculate Heart of Mary School declined to march as a result of OUTVETS joining the parade.
Former Boston Mayor Thomas Menino dies, leaves lasting impact on city
As the first Italian-American mayor, Thomas Menino served five terms over a span of 20 years. He was 71 years old when he died after battling an advanced cancer. Leaders including Boston Mayor Martin Walsh, City Council President Bill Lenehan and former New York Mayor Michael Bloomberg all spoke positively about Menino following his death.
Under his leadership, Menino ushered the city into a new age through notable changes including reducing crime, improving Boston Public Schools and making gains for same-sex marriage. In February 2014, Menino came to Boston University to co-direct the Initiative on Cities, which serves as a place for the university to engage with urban leaders and support growth and development in the city.