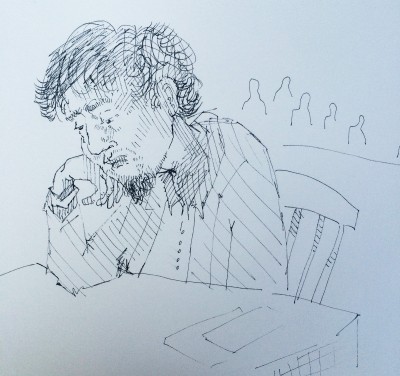 Attorneys for Dzhokhar Tsarnaev filed a motion Monday calling for a new trial to challenge the death sentence Tsarnaev received for his role in the 2013 Boston Marathon bombings and the violence that followed days later.
"A new trial is required in the interests of justice and judgments notwithstanding the verdict are required as a matter of evidentiary insufficiency," the motion states.
The 21-year-old former University of Massachusetts Dartmouth student was found guilty for placing bombs at the marathon finish line with his brother Tamerlan that killed three and injured nearly 300.
A jury found Tsarnaev guilty of all 30 counts on which he was convicted and later sentenced him to death on six of the 17 counts carrying the death penalty, The Daily Free Press reported on May 16.
At Tsarnaev's sentencing, U.S. District Court Judge George O'Toole told the defense team that it had two weeks to file an appeal, the FreeP reported on June 25.
The defense filed the motion as a "placeholder" to comply with the deadline set by the court, the document states.
The team will have until August 17 to file a more detailed appeal.
Tracey Maclin, a professor at the Boston University School of Law, said it is not surprising that Tsarnaev is seeking an appeal.
"It's rare in death penalty cases where defendants, particularly defendants who are represented by highly qualified attorneys … [that they don't appeal] because they have nothing to lose," Maclin said. "They're not paying for the attorneys … he's got nothing to lose and he's trying to prolong his life."
Maclin said it is not likely that Tsarnaev's sentence will be overturned considering that the case was tried at the federal level and he had "highly competent attorneys."
Daniel Medwed, a professor at the Northeastern University School of Law, said a thorough appeals process goes hand-in-hand with the death penalty to make sure the rulings are "as fair as possible."
"This summer there will be some post trial motions that will be filed back with O'Toole, the original judge, asking him to grant a new trial or otherwise overturn the verdict," Medwed said. "If O'Toole denies those motions, the defense team will appeal those decisions along with other issues related to the trial proceedings."
A direct appeal with the U.S. Court of Appeals for the First Circuit will challenge issues raised in court and determine whether there will be a new trial, Medwed said. If the court affirms Tsarnaev's sentence, the defense can file a post-conviction motion to go over issues not presented in court or present new evidence, he said.
This can lead to a lengthy death penalty appeal process, Medwed said, because the defense may get the chance to file more petitions for a new trial or a revised sentence.