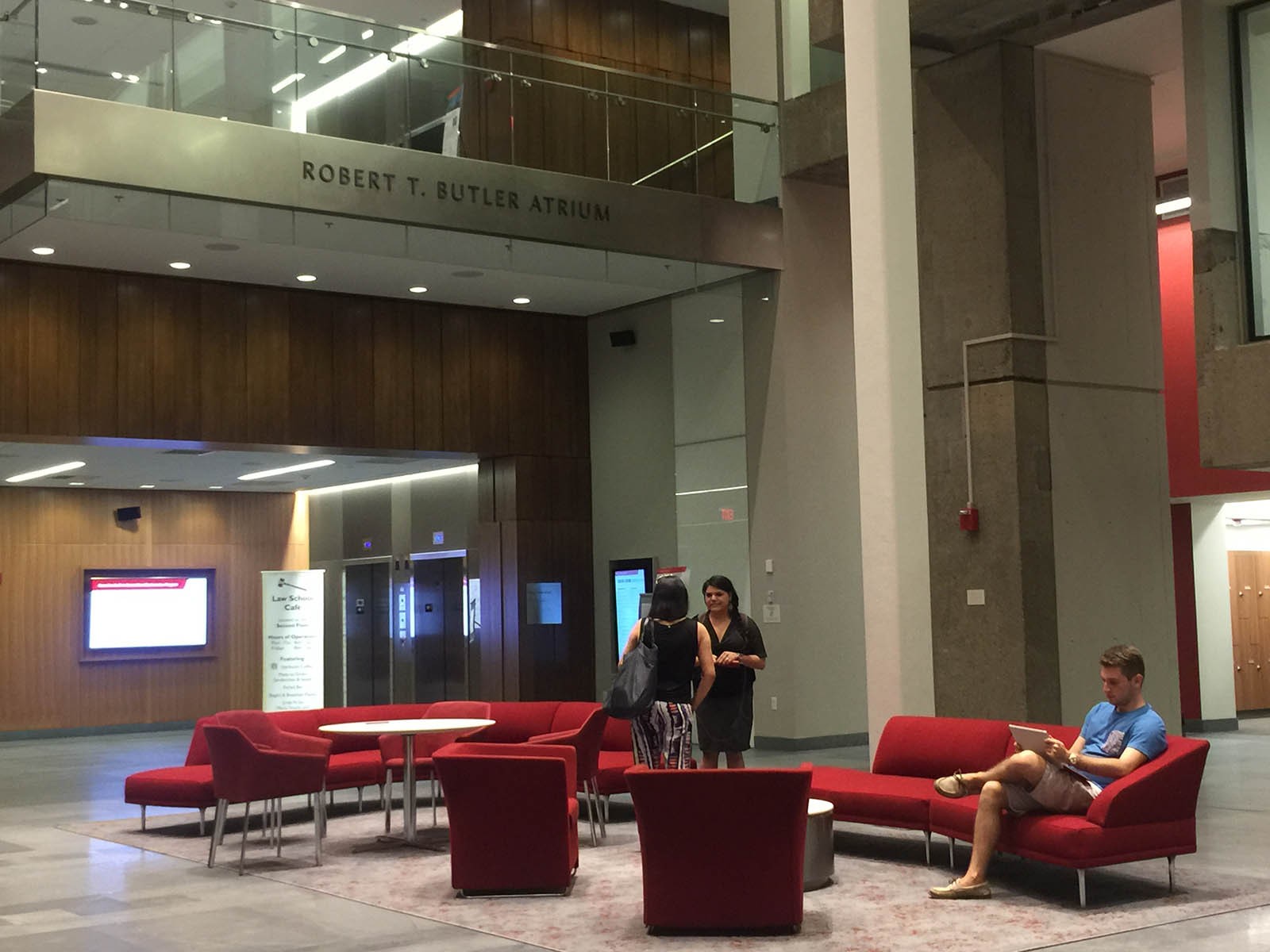 Boston University School of Law students attended their first school day in the renovated Law Tower Wednesday after a two-and-a-half year construction project on the building. The tower, Pappas Law Library and BU Law Auditorium were among the 18 different on-campus construction projects that were underway this summer.
On the outside, the tower's renovation adheres to its original design, but the 17-story tower has been upgraded with new mechanical, electrical and plumbing systems as well as new offices, new moot courtrooms and a new space for student services. The tower is also now LEED (Leadership in Energy and Environmental Design) certified, meaning its construction was recognized as one of the best building strategies in the country by the U.S. Green Building Council.
"We expect it to be quite similar to the experience [students and faculty] have had since the [Sumner M.] Redstone Building opened [in Fall 2014] — much more community and study space, state of the art classrooms, right-sized classrooms for our transactional law program and new practice moot courtrooms," Maureen O'Rourke, dean of BU Law, told The Daily Free Press in an email. "Most of what they need should be accessible on the first five floors."
BU Law professor David Lyons shared his experience teaching in the "un-renovated tower," expressing that the renovation was highly beneficial to the students' and faculties' mobility within the building.
"The renovation was very much needed, along with the new annex for classrooms. Without the annex, there was too much reliance on elevators to get to class, and now there are up-to-date classrooms that are more convenient for students," Lyons said.
With less elevator traffic, refillable water stations on almost every floor and many other environmentally friendly attributes like insulation and concrete panels, the LEED-certified Law Tower is a testament to BU's eco-friendly priorities, BU Law professor Peggy Maisel said.
"I can't imagine building and renovating without being LEED-certified," Maisel said. "To think about doing a big project like this, they need to make it as sustainable as possible and to make that statement about how important it is to Boston University."
Maisel, who works in the clinical section of the law school, is not just interested in the greener aspects of the new tower. On the clinical floor where Maisel spends a majority of her time, student lawyers are often meeting with clients who come to BU for legal services. The renovations included interview rooms in her department, making for a much more professional experience, she said.
"We are basically a law firm up here, and it's a great, welcoming space for clients who will meet with their student lawyers," Maisel said. "It's easy to provide good legal services and for the faculty to supervise their students. The space is fantastic."
These spaces for student work will be more conducive to group study in a state-of-the-art space, said professor Stacey Dogan.
"I feel like now that we have a first-class facility, the quality of our physical space is on par with the quality of everything else that we offer," Dogan said. "We could have survived in the classrooms that we had before, but I think that [the new tower] makes for a better learning environment."
The emphasis on community in the new building is another sentiment shared by professors of law. The renovations include places for students and faculty alike to sit and discuss work, study for classes and hold meetings.
"In our old building, we really didn't have any common space for students," Dogan said. "It's already resulted in a palpable difference in the sense of community that our students have with one another and with the faculty."
BU Law professor Maria O'Brien Hylton said the building not only caters to academic needs of students, but upholds aesthetic expectations as well.
"It's clean and has lots of natural light coming through the windows," she said. "We have a huge, open space between the faculty offices where there are lots and lots of chairs and places for students to sit."
Several law students find the renovation compliant to their academic needs, appreciating the tower's state-of-the art facilities and hoping that it will enhance their study experience.
Lucas Caruso, a second-year law student, said he enjoys the scenic panorama of the city from the renovated Law Tower.
"I don't have anything to compare it to, but the view is the nicest part of the tower," he said.
Jeffrey Butensky, a second-year student in the law school, said he looks forward to what the facilities have to offer. Last year he enjoyed the Redstone building, but he has yet to explore the renovated tower, he said.
"It's going to open up a lot of necessary study space, which understandably was lacking last year," Butensky said.
Sara White, a third-year law student and president of the BU Law Student Government Association, said she thinks the building's space will enhance community and cooperation among students.
"To see the completion of the law complex has been pretty great," White said. "It's offered a lot of community space to work, study and collaborate within the law school environment, which has been great, since some people equate law school with being competitive. It's a good way to break that."