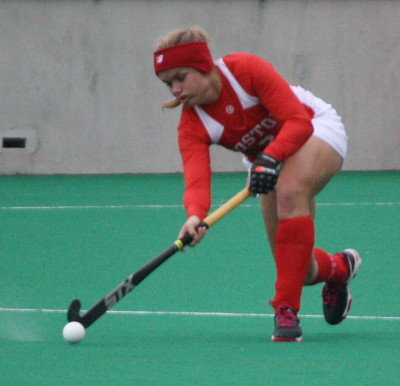 The No. 17 Boston University field hockey team opens a two game set this weekend when they take on No. 4 Duke University and the College of the Holy Cross.
The first game of the weekend for BU (8-3, 3-0 Patriot League) will be on the road at Holy Cross (6-5, 1-1 Patriot League). The Terriers are coming off a weekend sweep where they took down American University to take command of the Patriot League standings before beating Northeastern University in overtime the next day.
Senior forward Sofi Laurito and senior defender Rachel Coll are two of the players who stepped up in the victories. Their efforts were rewarded by respective Corvias Patriot League Offensive and Defensive Player of the Week honors.
"When you're a senior and a captain you want to play your best hockey and both of them are doing that, leading by example and playing hard," said BU coach Sally Starr. "I'm happy to see it halfway through their senior year, but there is still a lot of hockey to play. Their awards this week are well deserved."
BU is undefeated in conference play thus far thanks to its win over the Eagles on Saturday.
But Holy Cross' Megan Inch just won the Corvias Patriot League Goalkeeper of the Week award after making seven saves against Bryant University last weekend. The freshman has now won the honor twice, along with one Rookie of the Week award.
Inch and the Crusader defense are the strong point for Holy Cross, leading the Patriot League with a 1.71 goals-against average overall. In second place in this category are the Terriers with a 1.95 average.
The Crusaders defeated Bryant (2-9) last week when forward Maureen Connolly scored the game-winning goal in overtime. Connolly is the Crusaders' leading scorer and her 16 points are tied for fourth place in the conference with BU's junior midfielder Hester van der Laan.
With a 6-5 record, Holy Cross is battling for one of the four positions in the Patriot League Tournament. They are tied with Lafayette College for fourth place because of their 1-1 conference records. Both teams hold substantial leads over Lehigh University and Colgate University who are both winless in conference play.
The Blue Devils (8-3) will be another animal entirely. Duke has won four games in a row including shutout victories last week against the University of Louisville and Longwood University. Before facing the Terriers on Sunday, Duke will take on No. 10 Boston College as part of its New England road trip.
"We're excited to have an opportunity to have such a high-ranked team on our home field." Starr said. "I think that what we learned from our Syracuse game can really help us to prepare and to technically play a good hockey game.
"It's a great opportunity," Starr added, "but before that, all of our energy and focus has to be on Holy Cross. They are much improved and this has been their best year in many, many years. It will be a tough match against a team playing their best hockey."
Back Alyssa Chillano scored a hat trick in the 7-0 victory over Longwood on Sunday and was named the ACC Defensive Player of the Week.
Despite their ranking, the Blue Devils are behind No. 1 Syracuse University, No. 7 Wake Forest University, No. 3 University of North Carolina and No. 5 University of Virginia in their own conference. Their 1-2 conference record has been their downfall thus far.
"We worked really hard last week getting the Syracuse [(11-0)] loss out of us," Starr said. "I liked the way that we competed and performed in two really tough games [last weekend]. It's a real tribute to the team's tenacity and belief in themselves. The win against Northeastern [(3-9)] on Sunday was a really tough hockey match, [and] it is tough to go back to back. It was a great effort by the team and great effort by Rachel Coll to score in overtime."