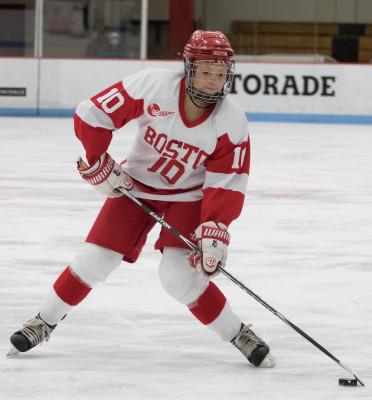 The No. 10 Boston University women's ice hockey team is looking to rebound this weekend after falling in this past weekend's series against No. 3 Clarkson University.
The Terriers (3-3, 2-0 Hockey East) will take on the newly-ranked No. 9 Northeastern University on Friday night, and then battle with the University of Vermont on Sunday afternoon.
BU is coming off back-to-back losses against the undefeated Golden Knights (7-0-0), who shut down the Terrier offense and scored a combined eight goals over the course of two games. However, BU plans to look at this weekend with a whole new set of expectations.
"I think we all know that we have to play a little bit better," said BU coach Brian Durocher. "We all just need to get a little bit tighter in our performance. That means that we're covering one more person in front of the net, we're a little more relaxed shooting the puck and we're making one more big save in goal. We just didn't find a way to get over the hurdle in the two games against Clarkson."
The Huskies (4-1-1), on the other hand, are on a bit of a hot streak after sweeping their series against Mercyhurst University last weekend. United States National Team member and senior captain Kendall Coyne returns for Northeastern this year, and once again leads the team in both points and goals with 15 and 10, respectively.
Coyne tallied seven points overall in both games against Mercyhurst (0-3-1) including a shorthanded goal and four assists. In addition, Sunday's game marked Coyne as the second player in program history to score 100 or more career goals.
"Whenever you're on the ice against [Coyne], you have to be aware of her presence," Durocher said. "You don't take as many chances, you can't be lackadaisical in what you're doing and you've got to push her to the outside of the rink. She's obviously a very dangerous player in every situation, and as long as the five people on the ice know, hopefully we'll eliminate any big mistakes that can happen out there."
Sophomore Denisa Krizova follows Coyne in points for Northeastern with 11 this season, and tallied her first collegiate hat trick Sunday all within the third period. Thanks to Krizova's efforts, the Huskies overcame a 3-2 deficit in Sunday's contest and emerged victorious, 7-3.
Freshman Brittany Bugalski has played five out of the six games for Northeastern in net this season and has won three. Bugalski spent last year playing for the United States Under-18 Team and boasts a save percentage of .908.
Friday will be Northeastern's first Hockey East game of the season.
Vermont (0-6), on the other hand, is having a starkly different season compared to Northeastern, having gone winless to start the season.
The Catamounts have had a tough time generating offense, having only scored a total of four goals this season and getting shut out in four games straight against No. 6 Bemidji State University, Clarkson and St. Lawrence University.
Vermont will play its first Hockey East games this weekend when it encounters Providence College on Saturday and BU on Sunday. Forward Bridget Baker leads the team in points with two.
"Your big challenge when you're playing a team that's having success versus a team that hasn't quite had the success record-wise is you've got to worry about the let-down," Durocher said. "Our charge will be to play hard against Northeastern, but as an athlete you've got to make sure you prepare for the next day.
"Our kids will be ready to play and compete," Durocher added, "but Sunday we'll worry about come Saturday night, not today or tomorrow."