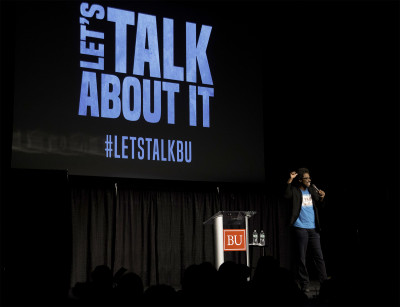 Boston University College of Arts and Sciences Student Programs and Leadership hosted the "Let's Talk About It: Race, Power and Privilege" talk Monday evening, featuring a keynote and question-and-answer session with socio-political comedian W. Kamau Bell. The dialogue touched on the social fabric on campus and around the country.
More than 100 attendees, comprised of mostly students and faculty, gathered in the Metcalf Hall of the George Sherman Union. Sitting at round tables, attendees, assisted by a minimum of one student facilitator, engaged in intimate conversations with each other throughout the event.
Bell elicited humor from often-uncomfortable social issues in his talk. He spoke of his interracial marriage with a white woman and the difficulties of talking about race and racism with his two mixed-race daughters.
"Remember the first time you saw an iPad? That's how people react to mixed-race children," he said during the event. "It's not that big of a deal. You can tell kids anything. The construct of race is real, and racism is definitely real."
One of his daughters thought she and her mother were of the same race, Bell said, although "she was peanut butter and her mom was oatmeal."
The event also served to advertise FY 103, a "half-semester course which will explore these issues in greater depth," according to the event's website. Stacy Ulrich, director of Student Programs and Leadership in CAS and principal organizer of the event, said the class will begin in the Spring 2016 semester.
Two students also spoke Monday evening. Janice Iwama, a fifth-year doctoral candidate at Northeastern University in the School of Criminology and Criminal Justice, talked about her experience working with police officers and law enforcement officials, and said she encourages attendees to identify these issues in their homes.
"[This] is a discussion that is well overdue for most universities [and] communities," she said before the event. "Not only along the lines of race, but also gender, immigration status [and] a number of other categories that we fail to identify with and discuss."
Iwama added the event is important to broaden understanding of "students who will then make up most of the workforce in the future and be the main voting population in the U.S." on pressing social issues.
"Hopefully, we will get [the attendees] to think not only about the present but about the future as well," she said.
Chelsea Roberts, a College of Communication alumna who also spoke, recalled her experience as a student in the BU community and said during the event, "As I walked down [Commonwealth Avenue], there was not a black face in sight. Being the only sign of melanin in my classroom made my skin crawl."
Roberts, in her talk, said students need to choose to be agents to combat societal prejudices, as "we're already losing something much more valuable: ourselves," by living in a community that led her to "talk white now."
Several attendees said the talk encouraged open conversations regarding sensitive social issues prevalent on campus.
Taiba Zahir, a junior in Sargent College of Health and Rehabilitation Sciences and one of the facilitators in the event, said the "amazing speakers" carried a crucial conversation.
"Some conversations may be difficult," she said. "I think it's good to get uncomfortable and have people start talking."
Ghislaine Sierra, a junior in CAS and a representative from Alpha Kappa Delta Phi sorority, said an exhibit of BU student groups after the event gave the sorority wider recognition of their social advocacies.
"We thought it would be good to come out and discuss how we tried to make our own type of social change in the BU community," she said.
Cassandra Villarreal, a senior in CAS, said she was surprised to see many unfamiliar faces and was satisfied with the event's turnout.
"I expect to see a lot of the same faces, but when I turned around I saw a lot new faces," she said. "It made me so happy."