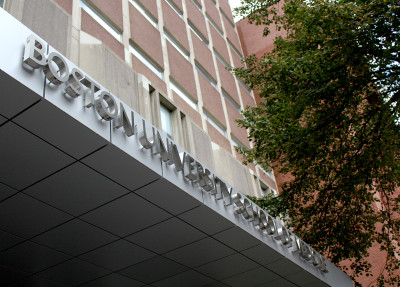 A research team at the Boston University School of Medicine found a pathway that may lead to advanced therapy that targets basal-like breast cancer, according to a Thursday public release from the Boston Medical Center.
The release detailed the accomplishments made by the group thus far and how they plan to advance their research.
"[The team] found that a protein secreted by BLBC cells, called periostin (POSTN), acted to nurture and support cancer stem cells by activating a distinct signaling pathway in these cells," the release stated.
Principal investigator Sam Thiagalingam led the study with mainly graduate students studying cancer biology and cancer genetics. He said they have been researching these for approximately five years.
"[As a principal investigator,] I lead the project, decide the experiments that my students do, troubleshoot, [find] the resources to direct the project," he said.
Thiagalingam, a professor in genetics and genomics, medicine and pathology and laboratory medicine at BU, said cancer cells produce certain factors that may help advance therapy dealing with the basal-like breast cancer.
"We have shown that the pathway leads to the excretion of cytokines," he said. "So basically, our idea here, we have articulated based on our data that … the maintenance of the stem cell state is mediated by the periostin, which is secreted by the cancerous stem cells themselves."
According to the release, drugs aimed at basal-like breast cancer are typically unresponsive.
"Tumors tend to metastasize rapidly and patients with this disease generally have a worse clinical prognosis," the release reads. "The aggressive nature of this subtype of breast cancer may be due to the fact that these tumors often harbor a higher content of cancer stem cells (CSCs). CSCs are thought to drive tumor recurrence, progression, metastasis and drug resistance."
However, the possibility of using this strategy in patients with BLBC and other carcinomas still has to be researched, the release stated.
Thiagalingam said he and his team are looking for more funding to continue their research into the upcoming years.
"In a year or two," he said, "we are hoping that the pathway itself would be targeted for therapy. That's basically our goal."
Several students said they believe cancer research is crucial to the wellbeing of current and future cancer patients.
Hannah Wolf, a sophomore in the Sargent College of Health and Rehabilitation Sciences, said she has not been directly affected by cancer but understands the importance of research.
"[Research] is pretty important just that it's semi-difficult to get involved in the first place," she said. "It's a great learning opportunity but feels semi-unattainable."
Tabitha Zaragoza, a freshman in the College of Arts and Sciences, said that she personally knows people who have been affected by cancer and because there is not a cure yet, there is always more research to be done.
"I think it is very important because students can develop new ideas and strategies to find a cure," she said. "I am very happy that they're making progress because that means more lives will be saved."
Annalise Elsasser, a freshman in CAS, said cancer runs in her family and cancer research is very important to everyone, not just those diagnosed.
"That's a good cause to be putting our resources into," she said, "and it is going to positively affect people."