Could No. 10 Boston University men's hockey head coach David Quinn take any positives from his team's performance on offense in a 4-2 loss to the No. 12 University of Michigan on Saturday?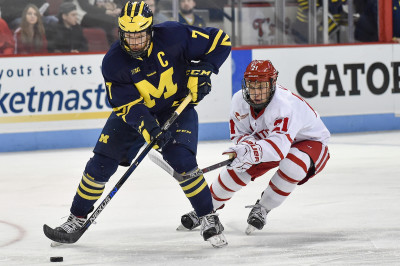 His response was straightforward.
"No," he said following the game.
He continued: "I mean, there just wasn't. I don't mean to be that way, but you saw what you saw. We just weren't sharp."
Indeed, BU (6-4-2, 3-2-2 Hockey East) had one of its worst offensive performances of the season. Entering the game averaging 35.6 shots per game, the Terriers could only muster 21 against Michigan (6-2-1) — and just 11 total through the first two periods.
It was BU's lowest shot total in a game since it aggregated just 19 shots on goal against the University of Notre Dame on Feb. 21, 2014. Its previous season low for 2015 was its 29-shot performance against Northeastern University on Nov. 6.
Only four Terriers had more than one shot on goal in Saturday's game against Michigan: freshman defenseman Charlie McAvoy (2), senior forward Ahti Oksanen (4), senior assistant captain Matt Lane (3) and sophomore forward A.J. Greer (4).
Oksanen and Lane were responsible for the only goals of the game — though Oksanen's came with just four seconds left in regulation, with the game well out of reach.
The five shots on target in the second period were a period-low matched just once this season, in BU's third period against the No. 9 University of Denver on Oct. 31.
BU also has not come close to that low of a shot total through two periods this season. Its previous low through two periods was 15 against No. 1 Providence College on Nov. 14. In fact, in all but three games this season, BU's shot total through two periods was higher than its full-game total of 21 on Saturday.
Though Lane and Quinn also didn't want to discredit the role Michigan's defense played in the loss, Lane said ultimately, the blame fell on the Terriers' lack of execution.
"We've got to take responsibility for that," Lane said. "We missed too many nets, we didn't get enough traffic in front, and that leads to less zone time. Just a combination of those things leads to a lack of shots, a lack of scoring chances, things that we've done so well over the last few weeks just seemed to disappear tonight. That's on us."
Lane also said that BU's passing was shaky at times during the contest.
"You see some passes in guys' feet, or just missed passes, whether they're soft, or too hard," Lane said. "We know we're a skilled team, and we know that's a part of our game. We can definitely be sharper."
And could Lane find any positives?
"Um, yeah," Lane said after a long pause. "We had a few good shifts. Just like every game. Not all negatives.
"We got to the net, at times, we had scoring chances, we had a couple great scoring chances on the power play. It's just, we've got to do it for 60 minutes, we've got to do it every shift. You can't be inconsistent in this league, and when you are, that's what happens."