The good times kept on rolling this past weekend for the Boston University women's hockey team, as the team secured a vital four points in a home-and-home series with Merrimack College.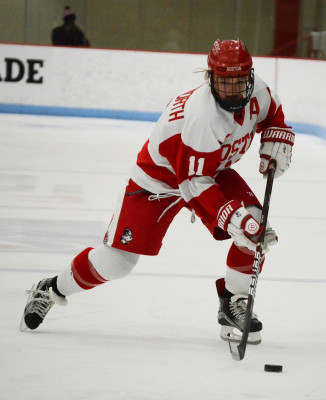 In what marked the first-ever encounter between BU (10-6, 8-3 Hockey East) and the Warriors (2-12, 1-7 Hockey East), it was the visiting Terriers who skated to a hiccup-free 5-1 road victory Friday night in North Andover. To the tune of a hat trick from sophomore forward Victoria Bach and a trio of assists from senior forward Sarah Lefort, answers were few and far between for Merrimack.
Senior forwards Rebecca Russo and Dakota Woodworth added a goal apiece to augment Bach's efforts. Junior goaltender Victoria Hanson's goal wasn't troubled until Merrimack freshman Paige Voight nabbed a consolation goal 3:02 into the third period.
For BU coach Brian Durocher, it was especially pleasing to see Woodworth grab her second tally of the year 10:57 into the contest, he said. The third-line center spent much of last year on the wing, and has gradually adjusted to her new role as a center.
"There's no question that Dakota knows her game is to be your classic third-line center," Durocher said. "She's been getting rewarded for it, which is nice because we know she's accountable and strong defensively. When she's getting some goals and assists it's good for everyone at BU."
While BU's lead was never in question, Durocher said he was still impressed by the Warriors' approach in all three zones. They're only 14 games into their NCAA tenure and forced the Terriers to work for everything they earned, Durocher said.
"It's a team that has pretty good size," Durocher said. "By no means was there any issue in goal — that goaltender [freshman Kate Kowalchuk] played extremely well [Friday]. But I think they played hard, they structurally played well, and our team did a good job of keeping the game fairly simple."
That narrative continued into Saturday's reverse fixture, as BU encountered stiffer competition in its 4-2 victory. Thanks to an opportunistic play from Russo, the Terriers jumped out to a 1-0 lead just 12 seconds into the first period, and they rode that confidence throughout the stanza.
Junior forward Samantha Sutherland scored on a slap shot 6:19 into the first period, while junior defenseman Alexis Crossley did the same with her first goal as a Terrier, a power-play tally at the 7:36 mark of the period. Senior forward Kayla Tutino extended the lead to four 15:52 into the first.
However, from that point on, Merrimack settled into the contest and grabbed a goal with one second left in the first period and another 1:19 into the third to create a nervy conclusion. Most notably, it was the third period in which the Warriors grabbed control and put a somewhat sour note on an otherwise commanding weekend, Durocher said.
"To get four points, they can't take it away from you," Durocher said. "To play five good periods is a solid sign. I would have liked to have it be six, but I don't think we played that well here in the third period. We never got frustrated, but we got a little disappointed we couldn't get a fifth goal and take the lid off."
BU next heads to Burlington, Vermont, for the Windjammer Classic, a tournament that follows the Thanksgiving holiday. Cornell University will try to break the Terriers' four-game winning streak on Nov. 28, while the Ohio State University awaits on Nov. 29.
Despite the hectic nature of the schedule, Bach stressed that BU will be ready to keep momentum on its side.
"The girls get to go home and see their family," she said. "We're still practicing, Tuesday, Wednesday and Monday, so it's not like we're away from the rink that much. I think it's a good break, and we'll come back and regroup and be good to go."