When the Boston University men's soccer team arrived on campus in August for preseason, major question marks persisted throughout the squad. The Terriers lost the spine of their 2014 team to graduation, the spring season served as a major disappointment and 13 new players were set to don the scarlet and white for the first time.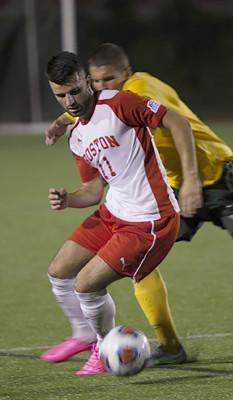 Fast-forward to present day, and BU (12-6-2, 6-1-2 Patriot League) surpassed any and all expectations that coach Neil Roberts had. Through a unique blend of veteran leadership and youthful energy, the Terriers advanced to the NCAA Tournament for the first time since 2008 and fell one game short of a return to the Patriot League Final.
"We knew we had some good players coming in, and they were able to adapt a lot quicker than we anticipated," Roberts said. "We were pleased with that and the ways that leadership from [junior right back David] Asbjornsson and [junior goalkeeper Matt] Gilbert and [senior defender] Richie [Robinson] allowed these kids to not have a lot of pressure on themselves. At times they played some pretty good football and that was pleasant to see."
On an individual level, the Terriers also surpassed expectations. After not playing a single match last year, Gilbert took home the Patriot League Goalkeeper of the Year Award and saved 79.6 percent of the shots that came his way.
Meanwhile, freshman midfielder Magnus Benediktsson received the Patriot League Rookie of the Year Award and Asbjornsson was honored with the Patriot League Defender of the Year Award. Even more, sophomore midfielder Anthony Viteri (six goals and two assists) and junior forward Felix De Bona (nine goals and two assists) were named to the All-Patriot League First Team.
For Roberts, it was a welcome surprise to see so many newcomers and veterans step up when his team searched for its identity.
"They all played such an important role and played so well," Roberts said. "Then you throw the freshman in on top of it with Viteri and so forth. It was great to watch them grow as the season went on."
Roberts also stressed that there are a lot of positives signs in the group moving forward, especially since nine goal-scorers will return for the 2016 season. Only four seniors will graduate and Gilbert, currently an academic senior, will return for his fourth year of athletic eligibility.
With that in mind, Roberts expects an infectiously positive culture to keep on pushing his team forward.
"It's not who you bring back, it's the culture you try to keep," Roberts said. "The culture from last year's team was carried over into this year and that's what we have to make sure we keep going. I think the key is the work ethic, the camaraderie and guys willing to fight for each other, and I think that's why we could get behind in games and fight back."
Roberts also highlighted defense as an area BU must improve upon, as it conceded 1.10 goals a game and five goals in its two postseason matches. With another strong group of newcomers and nine of 11 starters returning, however, Roberts is not overly worried about his team's future.
"We're trying to bring in some fast, technical guys," he said. "You can't really depend on freshman, but you wait and see how they develop and how they come into camp. You lose some good players, but hopefully replace them with some guys that can fit into your system."