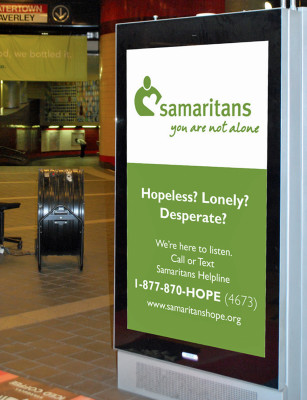 The Massachusetts Bay Transportation Authority and Samaritans Inc. of Boston launched the "You Are Not Alone" campaign Friday to spread awareness of suicide prevention through a statewide helpline in the public transportation systems.
The first stage of the program was the implementation of temporary signage in core MBTA stations around the greater Boston area, including North Station, Back Bay, South Station, Haymarket, Downtown Crossing, State and Park Street stations, according to MBTA spokesperson Jason Johnson.
"The Samaritans' help line (1-877-870-HOPE) will appear on the 80 digital screens in seven major subway stations in Boston and Cambridge," Johnson wrote in an email. "There will also be periodic scrolling messages on LED boards and public address announcements on subway platforms."
Johnson wrote that the entire program is a five-phase process, with the final result being permanent signage.
"In the weeks and months to come, 400 signs will be posted inside both bus and subway trains," Johnson wrote in the email. "Signs will also go up inside commuter rail coaches and at commuter rail station platforms."
Johnson pointed out that in the past three years, there were 28 deaths on MBTA tracks that were ruled intentional acts.
Steve Mongeau, executive director of Samaritans, said one of its primary priorities is spreading awareness of the fact that help is always available to users of public transportation.
"It's really to provide access to people so they know we're there," he said. "They know the number's there, so they can reach out for help through the service."
The two organizations have been in conversation for many years, Mongeau said, particularly in light of the statewide helpline's October addition of texting capabilities.
"We have been, for many years, in dialogue with both the MBTA and MassDOT about supporting to raise awareness about access to the Samaritans statewide helpline," he said.
Mongeau also said the MBTA is a helpful method of spreading the Samaritans' message.
"Again, [the project was a result of] the culmination of several conversations and meetings over the years with the T in the past," he said. "We've found over the years that it's one of the better venues or avenues to raise awareness of the helpline."
Mongeau said in order to measure progress of awareness of the helpline through public transportation, Samaritans volunteers conducted a survey before the signage installation and will conduct a second survey in September or October of next year.
"One of the things we did to help launch this was do a baseline survey," Mongeau said. "So we were out in the stations, asking people if they were aware that there is a statewide helpline available. And if they were, whether they were familiar of Samaritans, whether they'd seen the logo of the organization."
Mongeau hoped for "the needle to move in the right direction" by the second survey, in reference to public opinion.
"MBTA General Manager Frank DePaola has said that if even one life is saved, the campaign is well worth it," Johnson said.
Mongeau also expressed his excitement for the progress and raised awareness of available help.
"We're just thrilled that they're not only doing the digital side, but also doing the stations now," Mongeau said. "The plans are to expand and actually have car cards on the trains by March and have the billboards up by March throughout the T and commuter rail network. I think it's a great public service to help raise awareness of the helpline and access [for those] who are struggling with depression or other issues who want to reach out for help."
Several Boston residents agreed that the campaign was a good idea and hoped it would be helpful.
Caitlin Cain, 27, of Fenway, said public transportation is an ideal place for the advertisements.
"Plenty of people take public transportation," she said. "That's a great way to reach out and tell people that there are others around to help whenever they need it."
Lindsay Mays, 31, of Back Bay, said the initiative will help in light of modern suicide rates.
"I think that's a really good way to spread suicide prevention, especially since suicide rates are up these days," she said. "I think it could really help out someone in need."
Sarah Pilley, 24, of Fenway, said public places such as T stations are the best place to send the message across to the people of Boston.
"That's a great idea," she said. "It's good for people to know that there's help out there and that they can reach out. What's a better place for that than a public area?"