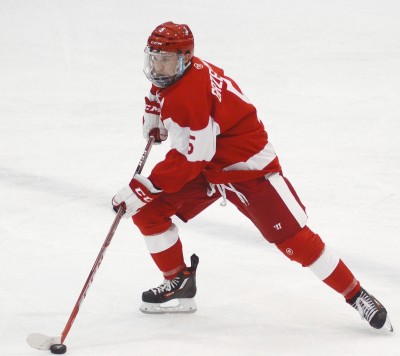 Now a senior on the No. 9 Boston University men's hockey team, forward Mike Moran has grown familiar with the Beanpot Tournament. Not only has he played in the tournament for three years now, but he has also attended the games for nearly his entire life. His uncles, Mark and Mike Bavis, played at BU, and those games hold a special place in his heart.
Moran and his brother attempted, at 7 or 8 years old, to appear on the Jumbotron at TD Garden or on TV, and also relished the opportunity to meet the players after the games.
"Being able to come down to the locker room after those games was pretty cool, be around the players, that was a lot of fun," Moran said. "Coming to the games was probably one of the best memories. Besides, obviously, last year."
Last year, of course, broke a five-year title drought for the Terriers (14-7-4, 8-4-3 Hockey East). Now-senior forward Danny O'Regan's overtime goal in the first round against Harvard University propelled BU to the championship game, then now-senior defenseman and captain Matt Grzelcyk had an overtime strike in the final round to give BU a victory over Northeastern University.
BU has its sight set on defending its title this year, commencing the 64th Beanpot Tournament with a rematch against Northeastern (9-12-4, 4-8-3 Hockey East) in the semifinal round Monday at TD Garden.
For the rest of BU's seniors besides Moran, Grzelcyk's game-winning goal just 51 seconds into overtime stands as one of the top memories from the team's Beanpot experience.
"That was really unreal," senior forward Ahti Oksanen said.
Senior assistant captain Matt Lane echoed Oksanen's sentiments, expanding upon how special Grzelcyk's slap shot was.
"When [Grzelcyk] scored the goal in overtime last year, as soon as that puck went in — that's probably my best memory," Lane said.
Grzelcyk agreed that the goal marked a big moment for the BU program.
"Scoring the goal, and just celebrating with my teammates," Grzelcyk said. "Just to be able to share that moment, especially with the seniors who had kind of been through a lot of adversity at BU, was definitely cool."
In snapping the team's championship-less streak of five years, 2015 also marked the first time BU had recorded a win in the tournament since 2012. Though BU owns more Beanpot titles (30) than any other school in the tournament — Boston College ranks the closest with 19 — the drought was certainly uncharacteristic for the school that has such a storied history in the competition.
"It's everything," Lane said about what the tournament means to BU. "Unfortunately, for my first two years, we didn't even get a win, so thankfully we got one under our belt, and getting another one, two out of four Beanpots, would be pretty cool to close out my career here at BU."
For the seniors who grew up locally — Grzelcyk and O'Regan are both Massachusetts natives — the tournament has special meaning.
"It's really cool. I obviously grew up watching it, dreamed of playing in it," O'Regan said. "My dad played in it. My dad was able to win one, and so that was obviously all just really cool. And it's always been a dream of mine to play in it and win one, and I got it last year, but I'd like to repeat last year in front of all my friends and family."
And even the seniors who are from farther away — Lane grew up in the Rochester, New York area and Oksanen is from Kirkkonummi, Finland — understand the significance.
"Once you get here and once you get involved, you kind of realize how important and how special it is right away," Lane said.
As for capping off the seniors' Beanpot careers, Oksanen has his plans laid out.
"Well, the first two years we lost all four games, and now last year we won two," Oksanen said. "So I think we should try to win two more, just to get even in my career."