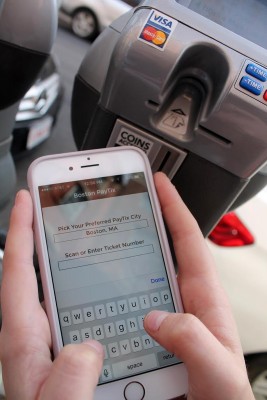 Boston Mayor Martin Walsh announced Thursday the launch of the new Boston PayTix application, a free app that will allot users "quick, convenient and secure parking ticket payments by smartphone," a Thursday press release stated.
In the release, Walsh emphasized the importance of the efficiency the app will bring to city services.
"The new PayTix app is another example of how we're using technology to make city government more efficient and effective for the people of Boston," Walsh said in the release. "We've seen through other city initiatives, such as ParkBoston and 311, that mobile apps are a great tool and we look forward to continue finding new ways to utilize technology to improve basic city services."
Boston PayTix will allow residents to "look up unpaid tickets, avoid late fees with reminders, and make secure payments instantly," according to the City of Boston's website. The app is a result of a joint collaboration between the Office of New Urban Mechanics, the Department of Innovation and Technology and the Boston Transportation Department.
The Mayor's Office of New Urban Mechanics was formed in 2010 and serves as a "civic innovation group" in order to focus on local education, engagement, streetscape and economic development, according to the group's website.
Kris Carter, of the Office of New Urban Mechanics, said in the release that the office learned through a previous collaboration with TicketZen of the popularity of smartphone apps
"We were thankful to work with a local start-up in TicketZen over the past year, and learned a great deal about the demand for these types of services available on mobile devices," Carter said in the release. "We are excited to launch the next generation of this service in the Boston PayTix app, just one of the digital tools making life easier for both visitors and residents."
Tracey Ganiatsos, spokesperson for the Boston Transportation Department, said PayTix provides options for customers when paying for parking.
"PayTix is yet another option [the Boston Transportation Department is] providing to motorists," Ganiatsos said. "We are trying to make it just easier for people to both pay a parking meter and, if they unfortunately do receive a ticket, to pay that parking ticket conveniently and easily."
Ganiatsos added that PayTix strives to provide customers with quality customer service.
"You know, one of the very good features of it is that after 21 days if you haven't paid your parking ticket, a late fee with be assessed at the face value of the ticket," Ganiatsos said. "With PayTix, you can pay your parking tickets very quickly and if the ticket hasn't been registered in the system yet, PayTix gets your information and reminds you."
Several residents said that paying online for a parking ticket could prove both beneficial and detrimental.
Shabnam Toopchi, 27, of Brighton, said she thought paying online for parking tickets was a positive step towards the city connecting with its younger residents.
"I think it would be great if you could pay online," she said. "It would be definitely great."
Tammy Hammack, 56, of Brighton, said while she likes the idea of using an app to pay for a parking ticket, she is apprehensive about submitting personal information over a screen.
"Some apps have been available to help pay for parking tickets," she said. "I have not used them because I am still not totally sold on the security issue, but I think it's great."