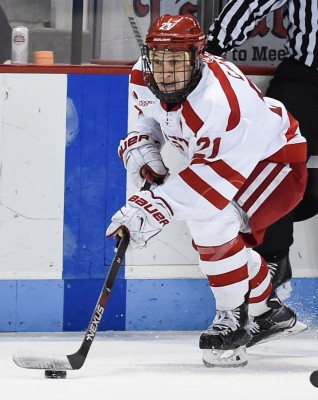 After a five-year Beanpot Tournament trophy drought, the Boston University men's hockey team could finally rejoice last year.
It took six periods and 23:09 of overtime to lift the historic Beanpot trophy, and No. 9 BU head coach David Quinn said he'd prefer to have an easier route this go-around at TD Garden.
"I hope none of them go to overtime," Quinn said with a laugh. "You can only take so much."
The Terriers (14-7-4, 8-4-3 Hockey East) will get a chance to start the defense of their trophy, and win their first Beanpot game in regulation since 2012, when they play Northeastern University in the semifinal round Monday at 8 p.m. at TD Garden.
If there was any pressure on the Terriers to repeat as champions, senior assistant captain Matt Lane said the team isn't adding extra weight for this year in particular.
"You know, I don't think so. At least, we're not going to put any pressure on ourselves," Lane said at last Monday's Beanpot Luncheon. "Everybody, all four teams, are coming for the same prize. Last year, I think it was four one-goal games with three overtimes. So you know how tight these games are."
This semifinal opens up the 64th iteration of the tournament, which began play in 1952. BU has won 30 of the first 63 of the editions, while Northeastern (9-12-4, 4-8-3 Hockey East) has come away with four titles of its own.
In the final game, BU held a two-goal lead over Northeastern in third period, but the Huskies battled back to force overtime. From there, the Terriers emerged victorious when senior captain Matt Grzelcyk wristed in his second goal of the game, en route to winning Beanpot MVP honors.
Northeastern's loss is just part of a rough era in the tournament for the school. The Huskies have now lost in the tournament championship game three years in a row and have not claimed the trophy since 1988.
BU also swept the Huskies in the teams' previous two matchups this season, first with a 5-4 win on Nov. 6 at Agganis Arena, followed by a 4-1 victory the following night at Matthews Arena.
That series marked Grzelcyk's first appearances of the season after recovering from offseason knee surgery. He combined for three points on the weekend, with senior assistant captain Danny O'Regan recording four points over two games.
Northeastern has not played a game since Jan. 23, but the Huskies have had a turnaround in the second half of the season after going 3-12-3 in the first half, going undefeated for the seven games (6-0-1) since the new year.
Senior captain Kevin Roy returned Jan. 22 after missing 12 games with an upper body injury. Since resuming play, he has recorded two assists to make his total seven points on the year.

Forward Zach Aston-Reese leads the team in scoring, with 23 points in 25 games this year. Forward Nolan Stevens ranks second with 19 points, and freshman Adam Gaudette is on a seven-game point streak with 12 points in that span.
Ryan Ruck has taken charge of the Huskies' goalmouth as of late, starting each of Northeastern's past 10 games. Despite some rough games to begin 2015, Ruck now boasts a .906 save percentage and 2.47 goals against average.
"They're really catching stride in the second half, so it's going to be a dog fight for sure," Grzelcyk said. "I know they definitely didn't forget what we did to them last year in the championship game, so I'm sure it gives them a little bit more of a reason to be pumped up for the game. So we definitely have to be ready right from the get-go."