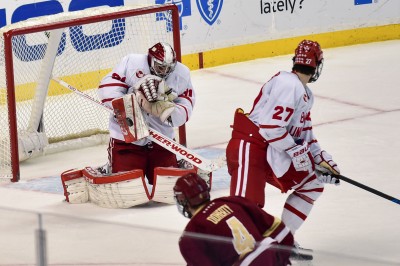 Sean Maguire was swarmed with 23 shots in the first period, and he stopped every single one.
"It could've been 4-0 if it weren't for Sean," Quinn said in reflection of the poor start for the No. 7 Boston University men's hockey team against No. 3 Boston College in the Beanpot final Monday at TD Garden.
The senior goaltender stopped nine more in the second period, and then six more in the third period. He saw four more in overtime. He stopped the first three.
But the last shot he faced, a wrister from BC (20-4-4, 11-1-4 Hockey East) forward Alex Tuch, went in, and resulted in a 1-0 win for the Eagles.
Even when BU (16-8-4, 9-4-3 Hockey East) "didn't manage the puck very well" and "did a lot of standing around" in the first period, as stated by Quinn, Maguire stood tall and continued to do so for the rest of the game. And for his efforts, he earned both a Most Valuable Player nod and the Eberly Award for most outstanding goaltending in the Beanpot Tournament.
He became the first player to receive both recognitions since BC's John Muse in 2010.
Maguire stopped 65 of the 67 total shots he faced in Monday night's final and the Feb. 1 semifinal against Northeastern University. His .970 save percentage in the tournament ranks third best in Beanpot history, behind former BU goaltenders John Curry (.985) and Rick DiPietro (.981).
Monday's final marked the latest of an 11-game streak of consecutive starts for Maguire, in which he's posted an 8-2-1 record and backstopped BU up the national rankings. His career save percentage — standing at .924 after the final against BC — threatens to break the all-time BU career record, set by Curry, at .923.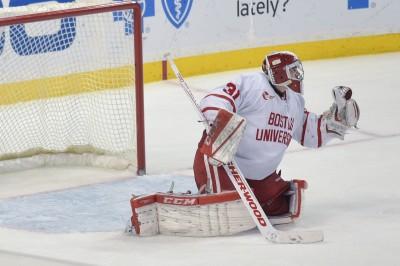 But despite the individual success, Maguire will graduate without one meaningful team accomplishment. Of the six seniors listed on BU's roster, Maguire will be the only one to leave BU without a Beanpot title, since he redshirted last season when BU earned its only Beanpot title since 2009.
So this year, did the hardware serve as any consolation? The exact question posed to him in immediate postgame interview with NESN: How does it feel?
"Terrible," he said. "I wanted to win this really bad this year. This is my last attempt, and I gave it my best effort, but it definitely wasn't the outcome I wanted."
Oh man this is brutal pic.twitter.com/E9XJKgjYze

— Pete Blackburn (@PeteBlackburn) February 9, 2016
In a game that ultimately came down to a goalie battle — BC goaltender Thatcher Demko posted his school-record ninth shutout of the season with the win, stopping all 30 shots he faced — Maguire just barely came out on the losing side, on one final shot.
"A classic goaltending battle," said BC head coach Jerry York. "I thought Thatcher and Sean Maguire traded saves back and forth, and it took a really hard, well-played shot by Alex Tuch to send the Beanpot to our dressing room."
As for that shot? It was a save Maguire had made "a thousand times" before, but this time, it was just too hard to see all of what Maguire described as a "pro-level" shot from Tuch.
"I think if I saw all of it," Maguire said, "I would've stopped it."