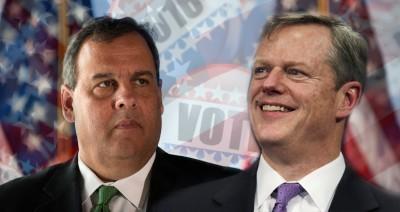 Despite a Friday endorsement from Massachusetts Gov. Charlie Baker and Lt. Gov. Karyn Polito, New Jersey Gov. Chris Christie dropped out of the 2016 presidential race Wednesday afternoon.
Baker followed Maryland Gov. Larry Hogan and Maine Gov. Paul LePage as the third governor to endorse Christie, a Friday press release stated.
Baker, for whom Christie campaigned during the election leading to Baker's eventual defeat of former Massachusetts Attorney General Martha Coakley, said in the release that Christie's leadership would provide the country much needed guidance.
"Right now, our country is in dire need of Governor Christie's tested, and strong leadership," Baker said in the release. " … His solid record of getting results for the people of New Jersey while balancing every budget, cutting spending, vetoing more tax hikes than any Governor in American history, and creating over 230,000 private-sector jobs shows that he is ready to take on the serious challenges our next President will face."
In a statement on his official Facebook page, Christie expressed how proud he has been of his campaign and those who ran it with him.
"I have both won elections that I was supposed to lose and I've lost elections I was supposed to win and what that means is you never know what will happen," Christie wrote. "That is both the magic and the mystery of politics — you never quite know when which is going to happen, even though you think you do. And so today, I leave the race without an ounce of regret."
Christie also emphasized what he believed was the key value of his campaign.
"I ran for president with the message that the government needs to once again work for the people, not the people work for the government," Christie wrote. "And while running for president I tried to enforce what I have always believed — that speaking your mind matters, that experience matters, that competence matters and that it will always matter in leading our nation."
William Bellamy, a professor of international relations at Simmons College, said he thought it was ironic that Baker chose to endorse Christie so close to both the New Hampshire primary election and Christie's withdrawal from the presidential race.
"[Christie's] one shot was to finish well in New Hampshire and hopefully attract more donor attention and a little bit more money," Bellamy said. "He would have been able to stay in the game a little bit longer."
However, Elan Axelbank, a member of Socialist Alternative, said Baker's endorsement of Christie makes sense because of their shared interests.
"I think they're really similar in a lot of ways," Axelbank said. "I think the one thing that should be pointed out is that they are both currently in the process of trying to privatize would should be public good. Christie's had this association called the Republican Governors Association, and they pledged $1 million to Baker's campaign fund."
Axelbank said he is not surprised that Baker chose to endorse Christie.
"I think that for some people, it's understandable that it's shocking," Axelbank said. "In my opinion, I'm actually not shocked. I mean, Massachusetts has this reputation for being a liberal state and for its population. That may be the case, but the political establishment is all tied into each from one state to the next."
Several residents shared conflicting views regarding Baker's endorsement of Christie for president.
Erin Thurston, 28, of Downtown Boston, said the news of the endorsement shocked her.
"I was pretty surprised by the fact that Baker endorsed him," she said. "I mean, we're in a pretty liberal area, so it's surprising that he endorsed someone so conservative — especially someone who was doing so badly."
Andrew Leroy, 31, of Brighton, said the Republican Party has been too separated with the large number of candidates.
"It was about time some of the Republican candidates dropped out of the race," he said. "There were so many, and it was at a point where half of them didn't have a chance and were just splitting the party up."
Melinda Green, 36, of Fenway, said she's curious to see if Baker will be able to endorse another candidate.
"I'm just curious to see what happens from here," she said. "Baker endorsed Christie so close to his dropping out, it's almost like it didn't happen. I just want to see whether he backs anyone else or throws his support behind another candidate."