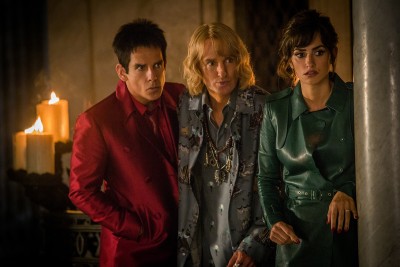 Why are we drawn to sequels? Closure, often, when a story draws us in only to cut us loose too suddenly. Desperate, we beg to see the loose threads tied, the open wounds healed. Or maybe it's for comfort, the warming joy of throwing our trust into once-beloved characters to show us why we loved them to begin with.
But why are we so drawn to sequels?
When "Zoolander" burst onto the scene in 2001, it was astounding that such stupidity could be such a revelation. Ben Stiller's goofy send-up of haute couture was that era's haute comédie, introducing the world to the likes of would-be giants like Owen Wilson and Will Ferrell alongside a parade of Milan-by-way-of-Hollywood superstar cameos.
At its center is male model Derek Zoolander (Stiller), with hair like a bristle brush and a head even denser. The timeless "lovable doofus" trope, making faces at new millennium vanity with the freshest and funniest talent, felt revolutionary. But in the case of its long-awaited sequel, 15 years does not "vintage" make. It's in those awkward grasps at former glory where "Zoolander 2" feels most faded, dated and, yes, stupid.
In the opening credits, we learn just how tough all those years have been on poor Derek. In the intervening decade and a half, the Derek Zoolander Center for Kids Who Can't Read Good (and Who Wanna Learn to Do Other Stuff Good Too), Derek's post-modeling philanthropic dream come to light, crumbles into the East River, killing his wife and disfiguring his best friend. Derek, deemed too dumb to be a fit father, loses custody of Derek Jr. and retreats to the icy wilds of North Jersey to live in anonymity as a hermit crab (in his words, anyway).
But a chance visit by his old pal Billy Zane (Billy Zane) comes with an enticing invitation to model for Alexanya Atoz (a caricaturesque Kristen Wiig), who of course is just the biggest name in fashion right now. Reluctant to return but excited to prove his worth to Child Services, Derek heads to Rome, coincidentally the same city where Justin Bieber was gunned down by helmeted assailants — sporting Zoolander's signature pursed lips as he died. It has all the trappings of a good incoherency thriller.
Derek's less-than-triumphant return to the runway provides the bulk of the jokes in Stiller's script, co-written with Justin Theroux, John Hamburg and Nicholas Stoller (all but Stoller worked on the original). Fifteen years is a long time, but it might as well be a century in the world of high fashion.
Derek and his hippie homie Hansel (Wilson) arrive at the House of Atoz to find it overrun by millennial monster Don Atari (Kyle Mooney, who fittingly got his start on YouTube), Atoz's latest designer who says things like "incredibizzle" and "hates" everything. Forced to understand farm-to-table wifi and, (ugh), social media, Derek and Hansel flounder.
At their best, though, those digs at the duo's obsoleteness will seem lazy to anyone who hasn't been in hiding since 2001. Derek's walnut-sized flip phone, originally a rip on the miniaturizing mobile market, is played for more yuks against a society putting iPads to its ears — not exactly biting wit.
The other side of that, though, like when Derek and Hansel struggle to stomach an agendered Benedict Cumberbatch, is the satire at its mean-spirited, out-of-touch worst.
The cause of that misfire has to be the ironic distance the movie places within itself. Like the generation it mocks, it's too self-aware, quipping along too carelessly between each Billy Zane ex machina. Gravely missed beyond a passing cameo is Matilda Jeffries (Christine Taylor), the no-nonsense Time magazine reporter whose romance with the simple but sweet Derek gave the first movie some actual honest heart. (Taylor would have been an easy get, too, seeing as she's married and raising two kids with Stiller.)

Penélope Cruz plays her "replacement," Valentina Valencia of Interpol's Global Fashion Division (you know, the fashion police). True, Derek's grief over Matilda's death gives his relationship with Valentina some weak gravitas, but that's kind of a non-issue. It's a comedy, after all.
But what's really frustrating is that another frat pack follow-up, 2013's "Anchorman 2: The Legend Continues," used the bigger, dirtier, star-studdier formula to beautiful success. The difference is inexplicable — "Anchorman" wasn't the same as "Zoolander," but it wasn't funnier. It's worth observing that the electricity in "Zoolander 2" sees a considerable surge when Will Ferrell returns for the last 30 minutes. No matter how many years pass, Jacobim Mugatu and his couture cabal will always be a riot.
It's not enough to save the movie, though. "Zoolander" had more going on than can be matched by dopey malapropisms, silly accents and Ariana Grande in a gimp suit, so it's disappointing that its sequel seems like limp fan service in comparison. True, there's a big appeal in watching beautiful people do wacky stuff. But Stiller should know that there's more to making movies than being really, really ridiculously good looking.
"Zoolander 2" is now playing in theaters nationwide.