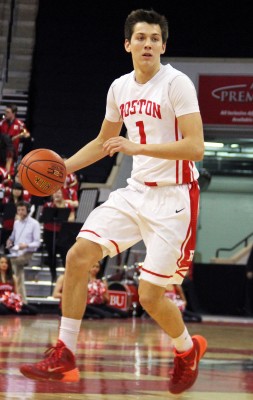 It's safe to say Joe Jones, head coach of the Boston University men's basketball team, was not exactly pleased with his side's performance the last time it faced Colgate University on Jan. 20.
"We were awful," Jones said. "We were absolutely awful. We were terrible in every aspect of the game. We were terrible. No excuses, we were absolutely awful … Seriously, we were terrible."
Indeed, Colgate (12-13, 8-6 Patriot League) shot nearly 60 percent from the field and went on a 24-6 second-half run in an 85-78 win.
Luckily for Jones, the Terriers (16-11, 9-5 Patriot League) will have a chance to exact revenge when they host the Raiders Wednesday night at Case Gym.
The game carries more significance, as the Terriers are currently in a three-team tie for second place behind conference-leading Bucknell University. There are also only four regular season games to play before the Patriot League Tournament commences in March.
The Raiders will be looking for a strong showing, as they sit just one game behind BU in the conference standings.
Once again, BU will be without senior forward Nathan Dieudonne, who will miss his second-straight game with an ankle injury. Dieudonne is the Patriot League's third leading rebounder.
"Nate will be more week-to-week," Jones said. "He's progressing nicely. We hope to get him back some time, but we don't know when."
Saturday afternoon against Loyola University Maryland, BU took more of a team approach to rebounding to make up for Dieudonne's lost production. Junior guard Eric Fanning led the way with 15 rebounds, while freshman point guard Kyle Foreman and junior center Dylan Haines each added five. Sophomore forward Nick Havener and sophomore guard Cheddi Mosely each pulled down four of their own, too.
Meanwhile, the Raiders are fresh off of a 91-81 home win over conference-leading Bucknell (13-12, 10-4 Patriot League). Colgate shot 60 percent from the field and outscored Bucknell in the paint 42-16. Forward Tom Rivard scored 24 points and guards Austin Tillotson and Jordan Robertson had 20 and 17 points, respectively.
The Terriers know all too well of Colgate's ability to spread the wealth offensively. Back in January, the Raiders went 14-of-25 from behind the arc while adding 28 points in the paint.
"We weren't really willing to defend," Jones said. "They're an excellent shooting team, and if you don't go out there and defend them, they're going to make shots. We just didn't defend. We didn't close out well, we didn't contest shots well and we didn't play with energy. They did whatever they wanted."
However, Jones was quick to point out the renewed defensive focus of his squad. Even without Dieudonne Saturday afternoon, the Terriers limited the Greyhounds (8-17, 7-7 Patriot League) to 32.4 percent shooting from the field.
"We've been playing much better," Jones said. "We're not the same team that we were a month ago when we went [to Colgate]. We're playing a lot harder. We're understanding a little bit more of what we're trying to do. We're a different team right now."
Jones said the match against the Raiders should serve as another tough defensive test for the Terriers as they get ready for postseason play.
"We've got to be able to guard them," he said. "It's got to be five guys playing together defensively. Our ball screen and handoff defense has to be very good. We have to be able to contain off the dribble, our rotation has to be on point and we can't over-help. We've got to be in a position where we can stop the three and stop the drive."