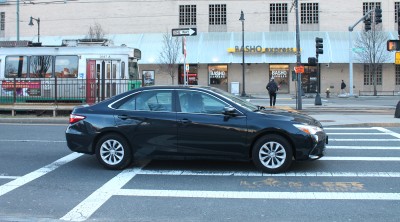 Massachusetts Gov. Charlie Baker and Lt. Gov. Karyn Polito filed an act Friday that aims to improve the commonwealth's transportation infrastructure and authorizes funding for a small bridge program and federal highway program, according to a Friday press release.
"An Act Financing Improvements to Municipal Roads and Bridges," which requests $200 million in Chapter 90 transportation funds, targets transportation plans that have been previously overlooked by federal aid and will work to improve the transportation system as a whole, according to the release.
Baker said in the release that increasing transportation funds would prove beneficial for commonwealth residents.
"We are pleased to file $200 million this year to support local officials and are committed to maintaining the same funding level for three years to support long term planning and economic growth," Baker said in the release. "Every city and town depends on access to these flexible transportation funds and these investments will ensure municipal improvements remain front and center."
The legislation requests $50 million for a five-year-long small bridge program that looks to repair around 1,300 bridges in the commonwealth, according to the release. A total of $750 million is being requested for the federal highway program.
Polito said in the release that creating a strong transportation system serves as the basis for a strong community.
"Our partners at the local level understand best that building stronger communities starts with making the short and long-term improvements to guarantee a reliable transportation network," Polito said in the release. "We look forward to the legislature's thoughtful review and continued efforts to place our cities and towns at the forefront."
In addition to Chapter 90 funding, the act will bring corrections to the Rail Enhancement Program, according to the release. The program has received more than $500 million in investments and has upgraded rail lines of the Massachusetts Bay Transportation Authority and Amtrak. According to the Massachusetts Department of Transportation website, Chapter 90 funds must be allocated toward roadway projects and associated work expenses.
Joshua Ostroff is the partnerships director of Transportation for Massachusetts, a coalition of organizations that work together "to create safe, convenient, and affordable transportation for everyone," according to the T4MA website.
Ostroff said Baker should consider the long-term effects of the transportation plan, as the requested level of funding is not sufficient for the city.
"The governor's proposal did not address the need for cities and towns to properly maintain roads," Ostroff said. "It only provides a third of the money needed for this. There is a statewide funding gap that underinvests in transportation projects."
Several Boston residents expressed the importance of transportation having proper funding.
Michelle Bristol, 26, of South Boston, said the transportation systems in the city are unpredictable due to the winter weather.
"I think the Green Line is the worst," she said. "And I, personally, primarily use the Red Line, and it has not been so bad this winter. I think if we had the same situation as last year, the same issues would continue."
David Trust, 35, of Back Bay, said he was relieved that Baker wants to put more money toward transportation needs.
"Transportation is a major issue for us here," he said. "If Baker wants to put more money into it, then that's great. We need that."
Ashley Sharp, 26, of South Boston, said transportation is important because it's something residents use every day.
"The T always needs money, and other transportation needs money," she said. "It's important. It's something we all use every day, so it's good to have money going into it."