DURHAM, New Hampshire — In a situation where it lacked forward depth, the No. 9 Boston University men's hockey team got all of its top production from its newly revamped top line in a 3-3 tie at the University of New Hampshire on Friday night at the Whittemore Center.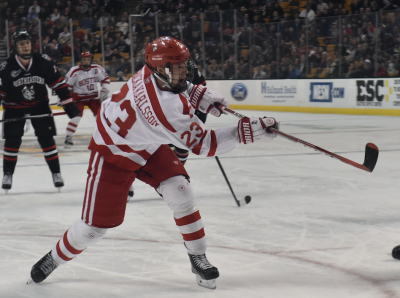 Senior assistant captain and right wing Danny O'Regan was responsible for each of BU's goals, recording a hat trick on the evening. Freshman forward Jordan Greenway joined the first line for the first time since Oct. 24, joining O'Regan and freshman center Jakob Forsbacka Karlsson, who had his first multi-point game since Jan. 15 against then-No. 4 Boston College.
"They got three goals, so I like that," said BU head coach David Quinn about the line's play.
Forsbacka Karlsson had two assists, on O'Regan's first and third goals of the game, and Greenway also assisted on those goals.
Greenway, who has recorded more than a point a game since Dec. 4, including six points in the team's past five games, earned the promotion based on his solid play this year.
"I just thought that the way he was playing, and Danny and JFK, I just thought that'd be a real good line," Quinn said.
But those three forwards were the only offensive skaters to record points on the night. Defensemen senior captain Matt Grzelcyk and freshman Charlie McAvoy each tallied an assist on O'Regan's second goal of the evening.
With the team already losing sophomore forward Nikolas Olsson for the year in January, its options at forward have become limited. Those options grew thinner when junior forward Robbie Baillargeon missed Friday's game with a lower body injury.
Senior Mike Moran jumped up to the third line, with freshman Oskar Andrén taking over Baillargeon's spot at right wing and freshman Bobo Carpenter remaining at center.
Carpenter had seven shots on goal on the evening, but Andrén was the only other bottom-six player to record a shot on net.
To replace Moran at fourth-line center, junior Dillon Lawrence played in his second game of the season, getting his first game time since Dec. 12 at then-No. 2 Quinnipiac University. He was flanked by sophomore Chase Phelps at left wing and junior Tommy Kelley at right wing.
In another blow to BU's (17-9-5, 10-5-4 Hockey East) depth, sophomore defenseman Brandon Hickey left the game near the end of the second period with a lower-body injury after being hit into the boards. Quinn did not have an update on either Hickey's or Baillargeon's status after the game.
The only remaining listed forward on the roster is freshman Erik Udahl, who has not played in a game yet this season. Freshman defenseman Shane Switzer and sophomore defensemen John MacLeod are also remaining options on the bench.
Quinn said that the injuries and limited depth were not to blame for the team's lack of balanced scoring against UNH (10-15-6, 4-9-6 Hockey East), however. Instead, he said that some of the players on the bottom three lines need to get back into a better groove.
"You'd like to get some more production out of more guys and that's something we're going to need," Quinn said. "We've got a few guys that are snakebitten at the same time so I'm hoping that they come out of it at the same time."