The four women currently serving on the Boston City Council spoke about their jobs and goals to improve the city at a forum hosted Tuesday by the Suffolk County Sheriff's Department.
City Councilors Michelle Wu, Ayanna Pressley, Andrea Campbell and Annissa Essaibi George answered questions submitted by audience members in advance, and Sheriff Steven Tompkins moderated the conversation.
Pressley, an at-large councilor representing all of Boston, said the women on the panel are "fiercely independent" and contribute to the diverse voices on the Council.
"It is a reminder that we are often progressive in theory and not in practice," Pressley said. "We each bring our own perspective, and I'm excited to see what that will yield."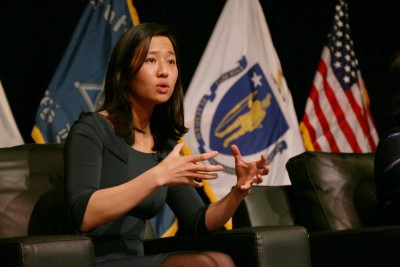 Wu, who is president of the Council and also an at-large councilor, said councilors focus on daily issues that aren't always large-scale.
"Our job as City Council is to figure out the day-to-day, quality-of-life issues that don't come with media, so we have to focus on transparency," Wu said.
The audience's questions covered topics including re-entry into society after incarceration, human trafficking and the youth.
Essaibi George, who was elected as an at-large councilor in November, said as a former teacher in Dorchester, education is important to her.
"As a teacher, I know that our kids spend so much time in schools … Sometimes, it's the least chaotic place in their lives," she said. "We need to make sure as adults that we [make] our kids not just academically successful, but personally successful."
Civic engagement and community development were main themes in the conversation.
"We get the government that we deserve," Tompkins said. "If you do not participate, then [you] do not get to whine about what is happening. If we deserve good government, then let's make that happen."
Campbell, who represents District 4, said political distrust contributes highly to lower voter turnouts.
"I found that I have to build trust, and I had to keep my word," she said. "If I said I was going to come back, I came back. If I said I was going to call you, I called you. We have to keep our word. It's as simple as that."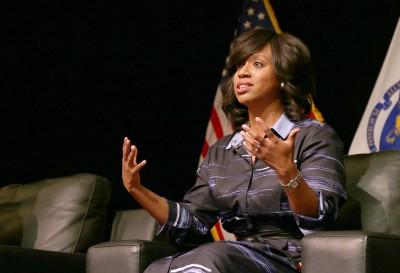 Pressley agreed with Campbell, pointing out that political distrust stems from previous negative experiences.
"People are apathetic not because they're uninformed, they're apathetic because they're too informed," Pressley said. "When we change those experiences, government will be redeemed."
Several attendees said they were curious about the councilors and what role they will play in improving Boston.
Roberta Young, 70, of Dorchester, said she wanted to hear about how changes in the city would affect her.
"I hope that the female councilors and representatives will give us their agenda and how they're going to be helpful in our communities in response to our questions, regarding education, housing and elderly services, and all things that are of interest to me," she said.
Priscilla Tate, 50, said she is interested in learning about plans to help her neighborhood.
"I am currently a resident of Roxbury, and I want to see what some of the issues are and some of the plans for resolving those issues," she said.
Yvonne Jones, 55, of Dorchester, said she came to the forum because she wanted to meet the councilors.
"I never really got to meet many of the city councilors in person, so this is my opportunity to meet them," she said. "I'm just here to get to know them better."