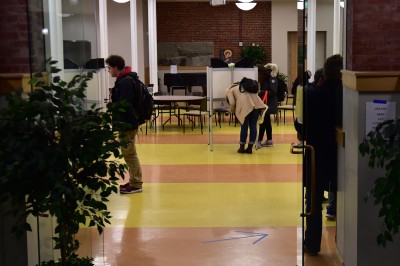 City residents reacted to Tuesday's Massachusetts primary election and this year's presidential race. Boston Mayor Martin Walsh said in a Monday press release that civic engagement is vital to creating effective change in the community.
"Residents and organizations are encouraged to assist in boosting civic engagement for elections by sending reminders to fellow neighbors, family and friends," Walsh said in the release.
According to a City of Boston Election Department release, polling locations were divided into 22 wards. Residents could vote in any ward, which set up stations in schools, community centers and libraries.
Jon Roberts, a professor at Boston University, said the presidential race has been out of the ordinary.
"This season, this political season has been conspicuous for its puzzlement," Roberts said. "I have been wrong on virtually every prediction I've made."
Roberts, who specializes in American religion, said leading Republican presidential candidate and businessman Donald Trump has made him question his prior thoughts on American evangelicalism.
"Here's a guy who's been married several times, has acknowledged that he's committed adultery, seems to be utterly unfamiliar with the Bible as a religious text and yet he seems to be polling pretty well with evangelical voters in the South," Roberts said. "It is a case, I think, of anger and secular politics triumphing over religious faith in the case of Trump's appeal to evangelical voters. "
Regarding the race between Democrats Vermont Sen. Bernie Sanders and former Secretary of State Hillary Clinton, Roberts said Clinton would most likely garner more support.
"I think that there is a certain sense amongst some Democratic voters that given this intense hostility between the parties, that Bernie Sanders, if elected, could not accomplish most of his goals as president," Roberts said. "I think there's a sort of perception — whereas Sanders is more ideologically driven, Hillary Clinton is more pragmatically driven. And this may be paying some dividends with some Democratic voters."
Beverly Woods, 78, of Back Bay, said she voted for Clinton because it is time for a woman to serve as president.
"I voted for Hillary, and the reason is that I'm old enough that I want a woman president," she said. "I think our country is behind the times. We're really dragging our feet, and a lot of it has to do with the obstruction to Obama during these years."
Sybil Cooper-King, 47, of Back Bay, said Clinton's prior experience as secretary of state and senator of New York appeals to voters.
"I voted for Secretary Clinton based on her experience," she said. "I was extremely proud to be a Democrat today."
Paul Boyd, 69, of Roxbury, said despite his age, he finds it important to vote and he hopes Clinton wins the election.
"My parents were Republicans, and they always voted that way even though it stopped being relevant in their lives a long time ago," he said. "I voted Democrat for Clinton because I think she'll do an overall better job."
Some residents said they voted for Sanders or other candidates because they don't trust Clinton and her past political endeavors.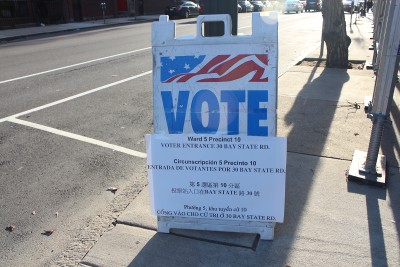 Bob Erikson, 60, of Roxbury, said he voted for Sanders because he can't trust Clinton's decision-making.
"I have a lot of questions about Hillary," he said. "I don't feel comfortable with all of the questions still about flip flopping back and forth and the dishonesty."
Susanne Haywood, 68, of Back Bay, said she is a Republican and was discouraged by the Republican presidential candidates.
"This primary is very disheartening, and I voted for John Kasich because he at least seems in control," he said. "He talks about the issues, whereas the [other Republican candidates] are acting a little bit buffoonish."
Other residents were ambivalent toward which Democratic candidate would win the election.
Jonathan Wolf, 30, of the North End, said he would be happy if either Clinton or Sanders won.
"Although I prefer Sanders, I'm happy with either Democrat," he said. "I know most of the issues will not get resolved on a four- or eight-year period at most, but it's a starting point to get things done."
Mary Zanor, 35, of the North End, said she voted but isn't sold on her decision.
"The elections are still a work in progress for me," she said. "Although I'm voting on the primaries today, I don't fully dig in until the general election."
Gail Coleman, 56, of Back Bay, said she voted to prevent Trump and Clinton from winning.
"All I have to say is that I voted to knock Trump out of the polls and maybe take a swing at Hillary too," she said.
Oriana Durand, Golda Fogel, Kalina Newman and Sadiah Thompson contributed to the reporting of this article.