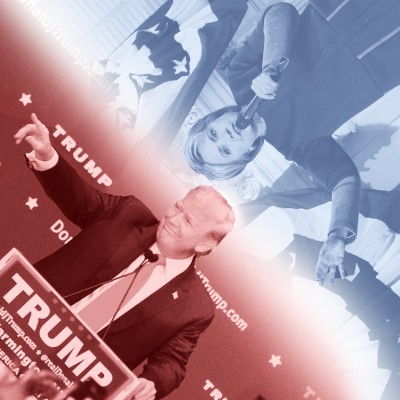 In the race for a spot in the 2016 presidential election, Republican candidate Donald Trump and Democratic candidate Hillary Clinton won their respective Massachusetts primaries Tuesday.
While Massachusetts was called early on for Trump, former Secretary of State Clinton's victory came in closely ahead of rival Vermont Sen. Bernie Sanders.
David Glick, a political science professor at Boston University, explained just how significant the primaries on Super Tuesday are.
"The significance of primaries in general is that they are … the method we use, or actually, the parties use nowadays, to determine who their nominees will be," Glick said.
In a Tuesday night press conference in Palm Beach, Florida, Trump expressed his hope for a larger, more unified Republican Party.
"Our party is expanding," Trump said during the press conference. "All you have to do is take a look at the primary states we've won … We're going to be more inclusive. I think we're going to be more unified. I think we're going to be a much bigger party, and I think we're going to win in November."
Glick added that even though a win for Trump only suggests support from the conservative side of Massachusetts, it is still a strong show of strength for the candidate.
"These are the polls of only Massachusetts Republicans. It doesn't mean that he would dominate in the state of Massachusetts," Glick said. "Massachusetts is very much a blue state, but … it would basically mean that his support in the Republican Party is very much real and extends far beyond the early primaries and far beyond the southern states that some people incorrectly associate with all of his supporters."
Dennis Hale, a political science professor at Boston College, wrote in an email that a victory for Trump is indicative of residents tiring of Democratic leadership.
"The Massachusetts primary will be important because it is known to be a liberal state," Hale wrote in an email. "On the Republican side … the recent polls suggest that Trump will win, even in Massachusetts, which shows that there are a lot more conservative Republicans, or angry independents, than most people believed possible."
In a Tuesday night press conference in Miami, Hillary Clinton addressed the crowd with excited messages for the future of the country.
"Instead of building walls, we're going to break down barriers and build ladders of opportunity and empowerment so every American can live up to his or her potential, because then, and only then, can America live up to its full potential too," Clinton said during the press conference.
While Clinton expressed excitement for her victory in the primaries, she also told supporters that there is work left to be done.
"America prospers when we all prosper," Clinton said during the press conference. "America is strong when we're all strong. And we know we've got work to do. But that work, that work is not to make American great again. America never stopped being great. We have to make America whole. We have to fill in, fill in what's been hollowed out."
Clinton finished her address to supporters by encouraging them not to give up on her cause or her campaign.
"We've got to keep going, keep working, keep breaking down those barriers and imagine what we can build together when each and every American has the chance to live up to his or her own God-given potential," Clinton said during the Miami press conference.
Trump ended his Palm Beach address with a confident message to his supporters that he sees success in their future.
"I am a unifier," Trump said during the press conference. "I would love to see the Republican Party and everybody get together and unify, and when we unify, there's nobody, nobody, that's going to beat us."
Several Boston residents expressed excitement about what Super Tuesday will mean for the election as a whole.
Rachel Walt, 32, of Back Bay, said the primaries are important to gauge the future of the presidential race.
"Everything definitely changes after Super Tuesday," she said. "I think the candidates will begin to narrow down, and everything will become more clear."
Anna Brekka, 38, of South Boston, agreed that the results provide an outlook on the election.
"Super Tuesday basically tells us who the nominees will be, and that tells us how election season will go," she said.
Andreana Calhoun, 43, of the South End, pointed out how many different states held elections on Tuesday.
"It'll be interesting to see," she said. "So many different states have elections, and it's interesting to see who wins where."
Kennedy Davis contributed to the reporting of this article.