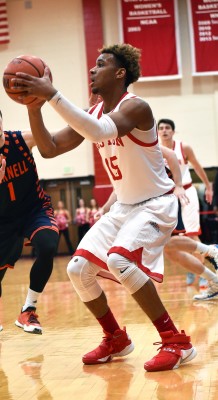 After fighting through a slog of a regular season, the Boston University men's basketball team will kick off the Patriot League Tournament Thursday night with a home game against American University.
Winning eight of their last 10 games gave the Terriers (18-13, 11-7 Patriot League) the third seed in the tournament, while a four-game winning streak placed the Eagles sixth in the conference (11-18, 9-9 Patriot League).
In the team's two matchups on the year, the Terriers trounced the Eagles by a combined 31-point margin, including a 20-point win on Feb 10.
"We've been fortunate in both games that we've played defense pretty well," said BU head coach Joe Jones. "We really need to be focused and disciplined to beat this team.  We're going to have to make sure we don't take anything for granted that we've done in the past. That doesn't matter at all."
In the last game between the two teams, junior guard Eric Fanning led the team with 25 points. The Trenton, New Jersey native was recently awarded Patriot League First Team honors, as he placed first on the Terriers with 15.2 points per game.
Fanning was not the only player to receive league honors, though. Freshman guard Kyle Foreman was placed on the All-Rookie Team and senior forward Nathan Dieudonne became a part of the first-ever All-Defensive Team.
The three Terriers were not the only members of the organization awarded hardware, as Jones was awarded his first Coach of the Year award by NBC Sports.
"First and foremost, the praise should go to the players," Jones said.  "My staff should get a ton of the credit for what we've been able to accomplish this year."
Both Foreman and Dieudonne were missing in action for BU in its regular season finale against the College of the Holy Cross, an 83-68 victory. Foreman suffered an ankle injury against the United States Military Academy that held him out of action, while Dieudonne is still suffering from an ankle injury.
There is still uncertainty as to who will be available for the American game, as sophomore forward Nick Havener was limited to four minutes of action in the Terriers' last game due to an Achilles injury.
"Right now I really don't know who'll play, and that's a really big thing for us," Jones said. "Through the game, we're going to have to see what's working, and that's what we've been doing all year. We don't worry who's out there, we just worry about how we're playing and who's playing well together."
Despite the uncertainty, Jones admitted he has a rough game plan already formed in preparation for the Eagles.
"I have in my mind an idea of who'll be playing most of the minutes," Jones said, "but we'll have to see what happens when it starts."
For the Eagles, it is all about defense and defensive rebounding. They are dead last in the Patriot League in points per game, as they average a feeble 57. Yet, they came out victorious in nine Patriot League contests due to a staunch defense that only lets up 65.3 points a game, second-best in the league.
This stark contrast extends to rebounding, as the Eagles -3.9 rebounding margin is third worst among all Patriot League teams.
Senior Jesse Reed and freshman Delante Jones lead American with an average of 12.8 and 12 points per game, respectively, while no other player registers double digits.
Still, the Eagles won the Patriot League Tournament two years ago with a 55-36 victory over the Terriers. This recent success makes American all the more tougher of an opponent for BU.
"They're well coached," Jones said. "We know they have two guys that can hurt you, but their other guys are playing much better. They do what they do very well, and if you're not ready, they'll get you. They'll out-discipline you, and if they're playing with more discipline, then they have a better chance of beating you."