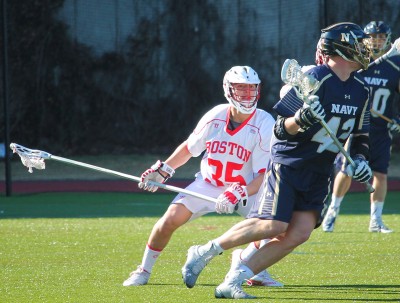 Calisto earns Patriot League award, playing massive role
Dominick Calisto of the No. 16 Boston University men's lacrosse team often has a simple role: shutting down the opposing team's best attackman.
The defenseman has done just that throughout the 2016 season, and the Patriot League recognized his deftness, naming him Defender of the Week. Whether it's limiting someone such as Providence College's Will Mazzone or Colgate University's Anthony Abbadessa, the junior's game is straightforward and effective.
He's caused 11 turnovers and picked up 19 groundballs, but BU (6-1, 2-0 Patriot League) head coach Ryan Polley said Calisto's role is far bigger than any metric.
"Dom has had it in him, and I think a lot of our players have," the third-year coach said. "He's hitting his stride and understanding what we need him to do in being part of our team defense, but also winning his individual matchups. That's been huge for us."
Depth on display in midfield, attack
The Terriers average 10.14 goals scored per game, good for fourth best in the Patriot League, and that's largely the result of options aplenty when in shooting range.
The primary initiators of junior Cal Dearth, sophomore Jack Wilson and freshmen James Burr and Brendan Homire have combined for 39 goals and 28 assists, but they're far from the only choices.
"Each game, someone different steps up, and the message to our team has been there's certain guys stepping up and allowing us to play at such a high level," Polley said. "If someone isn't having a good game, someone is willing and able to step up and … be productive."
With two lines of midfielders and Burr, Wilson, juniors Adam Schaal and Pat Myers and sophomore Ryan Hilburn all making significant contributions on attack, BU should be fresh as conference play gets increasingly intense.
"You have to prepare for 12 guys and not three guys," Polley said. "Teams say, 'Hey, if we shut these guys down, we're not going to shut BU down.' I think that's been very difficult to defend and one of the reasons we've been so successful on offense."
Terriers showing maturity on the field
As a third-year program, BU has undergone several evolutions since entering the NCAA fold. Polley said his team was "competitive" in its inaugural campaign, had trouble closing out games in year two and the here and now "just feels different."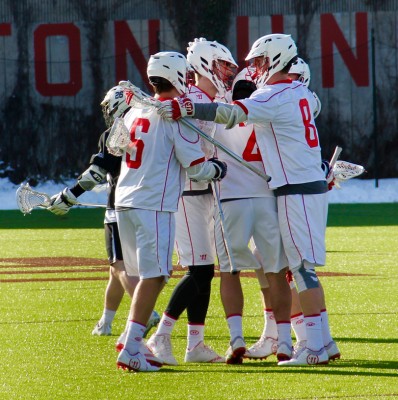 That assessment holds true, as the Terriers recorded an upset victory over the United States Naval Academy Feb. 27, are firmly entrenched in the national rankings and are primed to make noise in the Patriot League. That's all been accomplished with two seniors on the roster and a blend of juniors, sophomores and freshman that are thriving in unison.
The likes of junior goalkeeper Christian Carson-Banister (.569 save percentage) and junior faceoff specialist Sam Talkow (.697 faceoff percentage) are leading by example, and the rest of the team has followed suit on and off the field.
"The guys have done an unbelievable job in working hard at practice and in improving and doing work outside of our practice time," Polley said. "Guys are really buying in, and I think that's them understanding the process and understanding how much hard work goes into being successful for an entire year and not just small stretches."
Polley praises coaching staff's collective efforts
While Polley is the face of BU's ever-evolving program, there are several people behind-the-scenes whose contributions are just as indispensable.
Al Lattell, director of lacrosse operations, is responsible for all the finer details that go into winning a game Saturday or midweek. Noah Fossner, the team's volunteer assistant coach, primarily works with the goalies. Assistant coaches Stephen Toomy and Justin Domingos complement each other too, with the former focusing on the defense and the latter calling the shots on offense.
That's just a snippet of their on- and off-field contributions, though. Polley attested that BU wouldn't be on its upward trajectory if not for all the diligent work Latell, Fossner, Toomy and Domingos put in every day.
"I am so blessed to have a great staff, and they deserve a lot of credit," Polley said. "It takes a lot of pressure off me so I can manage running this program and doing the things I need to do on a daily and weekly basis outside of the lacrosse realm … I couldn't be more happy with my staff, and I hope I keep them forever."