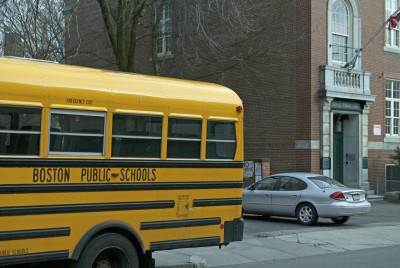 Several major educational organizations announced their support Monday for an anti-discrimination bill meant to protect the rights of transgender individuals in all public spaces in Massachusetts, according to a Monday press release.
The Massachusetts Teachers Association, the American Federation of Teachers Massachusetts and other major teachers unions joined Freedom Massachusetts, in support for the passage of the bill, the release stated. Freedom Massachusetts is a bipartisan campaign advocating for the equal treatment of all people under the law.
Thomas Gosnell, president of AFT Massachusetts, said lawmakers passed a ban on discrimination in education, housing and employment in 2011, yet advocates of the bill said they feel transgender individuals should have protections in all of Massachusetts' public accommodations.
Gosnell said the proposed bill aims to extend the protections of transgender people that already exist in other areas.
"Right now, under the law, transgender people have protection in the schools and a number of other places but they don't in public accommodations," Wilder said. "What this proposed bill is trying to do is extend coverage to areas where transgender people do not have civil rights protections."
Matthew Wilder, a spokesperson for Freedom Massachusetts, said the recent show of support for the bill is just another example of organizations coming together to stand up for the equal treatment of all people.
"It's about basic human dignity and protection that everyone else in the state already enjoys," Wilder said. "And that should certainly be extended to the transgender men and women who call Massachusetts home."
Wilder also explained that this effort is an attempt to fill the gap that was left when the 2011 anti-discrimination bill excluded the protection of transgender people in public accommodations.
"In 2011, legislators weren't ready to create a law that allowed transgender men and women the protections they needed to use gender-segregated areas like bathrooms and locker rooms that aligned with their gender identity," Wilder said. "There wasn't enough political, institutional power behind the law at that time. We think that's changed since then, and we think now is the time."
Boston Mayor Martin Walsh, Massachusetts law enforcement officials, 200 businesses and organizations across the state and Boston's professional sports teams all stand in support of the bill, according to the release.
Elizabeth Guyton, spokesperson for Massachusetts Gov. Charlie Baker, described in an email Baker's support of the legislation.
"Governor Baker supports the 2011 legislation that expanded protections to transgender individuals and believes no one should be discriminated against," Guyton wrote in the email. "He looks forward to reviewing additional legislation should it reach his desk."
Several residents of Boston expressed relief that transgender individuals can now receive protection in public spaces.
Brian Hughes, 47, of Allston, said he is disappointed a bill to protect transgender people in Massachusetts is necessary to ensure people receive equal treatment.
"I think the bill is necessary, but it shouldn't be just because everyone has the right to be who they are," he said. "I think people are too conservative. Everyone thinks it's a choice, and in some ways it is, but mostly it's just about how people feel about who they are. It's just going to take some time."
Hughes also expressed his optimism regarding how the people of Massachusetts will respond to the bill if it is passed.
"I have a lot of faith in Boston," he said. "It might upset people, but I don't think the general public will have a problem with it."
Joseph Vincent, 37, of Back Bay, said he believes in the equal treatment of all people.
"No one should have to face discrimination," he said. "It's basic human decency to avoid punishing people for being who they are."
Sarah Woychick, 29, of Allston, said all people have the right to equal treatment in any location.
"That's kind of ridiculous that transgender people aren't protected in public places," she said. "If they're protected in schools, why wouldn't they be protected in public as well? The public is just as important as all those other places."