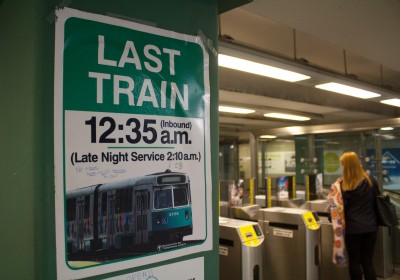 The Massachusetts Bay Transportation Authority is inviting the public to provide comment on options that would improve critical bus routes following the recent cancellation of Late-Night Service, according to a Monday press release.
"The MBTA committed to considering mitigation options to change bus services to reduce frequent overcrowding, increase reliability and provide service to minority and/or low-income areas," the release stated.
According to the MBTA website, a March 16 meeting of the Fiscal and Management Control Board, MBTA staff created a set of proposed changes to improve bus service and invited the public to review the document and share their comments via email, mail or telephone through this upcoming Monday.
MBTA staff will then review all public comments from customers, community organizations and transportation stakeholders, and will provide a summary of those comments along with recommendations to the FMCB on how to best improve bus services, according to the release.
Aside from addressing the mobility needs of the population, the mitigation principles include "meeting MBTA's legitimate business interest" and evaluating opportunity to collaborate with the private sector, among others, according to a public input proposal on the MBTA website.
A vote on staff recommendation of mitigation actions for FMCB is scheduled to occur on April 11, and the service is targeted to be ready for implementation on June 25, according to the proposal.
Jason Johnson, spokesperson for the MBTA, said public commentary is important in collecting a variety of opinions regarding how to improve service on critical bus routes.
"Public comment is important in that it allows the MBTA to reach out to a broad range of community organizations and transportation stakeholders to encourage review and comment on the service improvement or change options to our system," Johnson said.
Johnson also said the MBTA has reached out for public opinion on other MBTA services, but this particular effort specifically targets critical bus routes.
"The MBTA has reached out for public commentary on services before on many issues, most recently ranging from late-night services to fare changes to commuter rail schedules," Johnson said. "This effort is focused on options to improve service on critical bus routes."
Several Boston residents expressed a lack of faith in the MBTA's ability to integrate public commentary into positive actions to change the current bus system.
Ben Esparza, 29, of Brighton, said the MBTA should welcome public commentary to improve the state's failing transportation system.
"I think the MBTA is a real mess right now, so it needs a lot of feedback from the public so it can better serve citizens that are paying for it," Esparza said. "Frankly, especially after last winter, it exposed … how old, underfunded and overused [the system] is."
Esparza said he is hoping the MBTA will provide "more frequency during rush hour service, higher-capacity buses, not blowing past people, especially when the weather is bad, and better customer service."
Esparza also suggested that the MBTA should gain inspiration from London's public bus service.
"I'd like to see everything change," Esparza said. "If it were a system that were modeled after the London system, I think it would be a lot better. London's bus system is able to sustain itself. It's well-designed, well-equipped and it's well-managed."
April Cardoso, 38, of Dorchester, said the MBTA should consider customers' feedback because "valuable" comments from tax-paying citizens can help change the system, and she recommended that the MBTA increase the number of buses running during rush hour.
"If they take the comments seriously, I think it'll improve the system overall," Cardoso said. "Certain routes tend to be overcrowded during peak times. They should add more buses during peak times. I take the 47, and that's extremely crowded during rush hour."