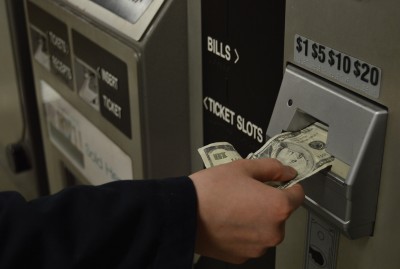 The Massachusetts Bay Transportation Authority plans to eliminate cash payments for its services, MBTA spokesperson Jason Johnson stated Wednesday.
Johnson wrote in an email that the MBTA's goal is to update the payment system to align with the technology of the current generation.
"The goal is to develop a system that would allow riders to pay with phones, contactless credit cards or a next-generation Charlie Card," Johnson wrote.
Johnson also mentioned how the MBTA is trying to mirror fare collection systems present in other metropolitan areas.
"Similar automated fare collection systems are in place in London, Salt Lake City and Chicago," Johnson wrote. "Riders will tap their card or phone on a reader as they board a bus or enter a fare gate."
Paul Regan, executive director of the MBTA Advisory Board, explained the reasons behind the change in the fare payment system.
"The MBTA has been trying to get cash out of its fare system ever since they adopted the Charlie Card," Regan said. "It's more efficient for the MBTA and it's faster for the customers because it cuts down on the time it takes to board the bus and allows the bus to stay on schedule."
Regan also pointed out that one major consideration is how to accommodate low-income riders who often rely on using cash to pay for MBTA services.
"How can you handle the rider who doesn't have the kind of resources to buy multiple smart passes or to store a lot of money on a card?" Regan asked. "Those people are going to have to be protected, because that's a sizable proportion of the bus ridership."
According to Regan, the MBTA is still figuring out exactly what the new payment system will look like, but it is looking to the next generation to create solutions.
"The genesis of this is that the system that the T has now, the Charlie Card system, is aging," Regan said. "The Control Board is thinking hard about what the next generation for fare payment is going to be. There are a lot of problems that currently exist in the system, and they're hoping that the next generation will fix [them]."
Charlie Ticotsky, the policy director for Transportation for Massachusetts, said the potential advantages of the new system would better the customer experience.
"We're interested in learning more about how the new system will benefit riders," Ticotsky said. "There's definitely some reasons to be encouraged by the new system, and that includes some operational advantages with faster boarding and flexibility."
Ticotsky also said a lot of standing issues must be resolved before the new system takes effect.
"We want more detail on how the new system will work in regards to elimination of cash fares and how that will impact those who are unbanked," Ticotsky said. "There are going to be a few years before it's live, so we're hoping that those questions will be resolved, and ultimately, that the system is a good thing for riders."
Several Boston residents shared their opinions on the new cashless system.
Jamal Pinnock, 26, of Mattapan, said he disagreed with the MBTA's decision to switch over from cash payments.
"I understand the Charlie Card is supposed to make it easier and it has, in a sense," he said, "but taking away the cash value for public transit is not going to help."
Daniel Moore, 33, of the South End, said this new system will encourage riders to engage in illegal activity for rides.
"[The new system] is going to make lower-income riders do things they wouldn't normally do because they don't have the income to be able to pay the fares with cards," he said. "People will try to cheat the system and essentially rob them by finding ways to sneak in or piggyback behind someone going in because they're not going to have a credit card or phone to be able to make the payments."
Eric Buehrens, 62, of Back Bay, said eliminating cash payments will have a negative impact on many T riders.
"I understand the point of trying to get people on and off the bus more quickly, but a lot of people who take the bus either don't have a credit card or don't have a smartphone," he said. "They pay with nickels, dimes and quarters."
Kyler Sumter contributed to the reporting of this article.