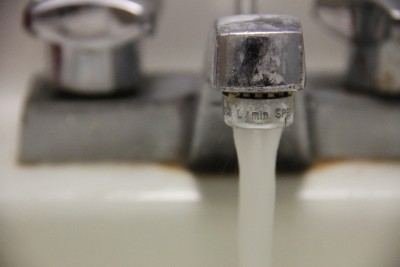 In an effort to decrease the number of lead service lines in the city, Boston Mayor Martin Walsh announced Thursday the expansion of the Lead Replacement Incentive Program to include commercial property owners among those eligible to receive incentives, according to a Thursday press release.
Walsh said in the release that the replacement program, operated by the Boston Water and Sewer Commission, will improve the health and safety of Boston residents.
"The health and safety of our residents is our top priority, and in Boston we are making significant strides towards replacing the remaining lead pipes across the city," Walsh said in the release. "It is our hope that residents will take advantage of this program to replace lead water service at their property to help us move the City of Boston towards a safer housing stock and a healthier city."
In March, the Massachusetts Water Resources Authority approved $100 million in loans to be put toward replacing lead services, The Daily Free Press reported on March 24.
The release stated that eligible property owners can apply to receive up to $2,000 in incentives to cover the cost of service replacement, a $1,000 increase from the previous incentive program.
Dolores Randolph, spokesperson for the BWSC, explained that the expansion allows more property owners to benefit from the program.
"Previously it was limited to one-, two- and three-family residential homes, and it's been expanded to commercial," Randolph said. "If you think of the properties in Boston, you could have a small, commercial business on the first floor with some residence upstairs with three or four units. Previously, that would not qualify."
Since 2005, 1,391 lead service lines have been eliminated, according to the release. Randolph said there are still a large remaining number of lead service lines.
"We are aware of 5,091 suspected private lead service lines," Randolph said. "That's from our latest review."
Eligible homeowners must utilize official BWSC contractors, who will ensure that each replacement job is performed to the standard of city officials, Randolph said.
Randolph added that the program will encourage residents to have their pipes changed, even if there is no existing damage.
"It certainly encourages the property owners to, at a time when maybe nothing is particularly broken, to go ahead and have the work done," Randolph said. "For the buy and share of property owners, up to $2,000 will go a long way toward the cost of the work."
Several Boston residents said the Lead Replacement Incentive Program is necessary for older homes and that people should utilize the incentives.
Tim Wright, 68, of Roxbury, discussed how the age of many Boston properties makes the replacement program necessary.
"If you think about it, so many of Boston's residences are decades old, and those homes could probably use a change of pipes," he said. "It's good to give incentives, so that the pipes actually get replaced. I don't know what lead does to water, but that sounds unsafe."
Alicia Martinez-Beltran, 40, of the South End, said she hopes Boston homeowners will utilize the program and replace their service lines.
"If they're offering incentives, I hope that people really take advantage of that and get them replaced," she said. "I'm all for improving Boston's properties."
Benjamin Breed, 26, of the North End, said while he approves of the program, he does not believe it should be a monetary priority.
"It's nice to hear that they're doing the program," he said. "It seems like a good way to actually have something done about it if Boston still has lead pipes. It honestly doesn't seem like something that would be a big priority to me, and I didn't realize it could cost that much money. But at the same time, if I were a homeowner, I probably wouldn't want to spend that much, so it's good that they're helping out."