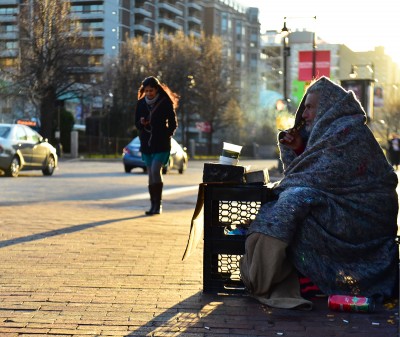 The Boston City Council Committee on Homelessness, Mental Health and Recovery met Tuesday in a public hearing to discuss the effects of homelessness on youth and families, according to public documents.
The committee ordered the hearing, hosted at St. Mary's Center for Women and Children in Dorchester, in response to the rising number of homeless students enrolled in the Boston Public Schools system, according to a Friday hearing order.
"The City of Boston, through a variety of estimates, has approximately 2,000 – 4,000 homeless students currently enrolled in Boston Public Schools," the order stated. "Approximately 400 homeless students in the Boston Public Schools are currently sheltered outside of the City of Boston and 280 homeless students attending schools in other districts are sheltered in the City of Boston."
The order stated that homeless students and their families face a variety of challenges, making a public hearing to discuss solutions a necessity.
"Homeless families lack stability and security, causing children in these families to have unique academic challenges, higher rates of absenteeism, and experience alienation and loss of connection with their peers," the order stated. "The City of Boston has a responsibility to support the stability and well-being of all children and families as they struggle with homelessness."
For these reasons, the Committee on Homelessness, Mental Health and Recovery ordered Friday that "the appropriate committee of the Boston City Council hold a hearing to examine the impacts of homelessness on children, young adults and families in the City of Boston and the resources currently in place to support these families."
Matthew Hoffman, CEO of Boston Alcohol and Substance Abuse Programs, Inc., discussed the various causal factors surrounding homelessness, such as substance abuse, mental illness and inability to receive consistent care.
"Certainly addiction to drugs can play a huge part in becoming homeless. I'd say that's more common than the other way around," Hoffman said. "On the other side of it, a lot of homeless people are drug addicts and alcoholics. So it's a two-way street."
Hoffman said substance abuse makes it difficult to find shelter, no matter its permanency.
"It's difficult to get even temporary housing — let alone permanent housing — when you're in an unstable situation, and drug addiction and mental illness play a big part in having an unstable situation," he said. "People are reluctant to give you a place to live."
Hoffman said mental illness and other health concerns create additional obstacles, as the homeless are often unable to regularly take the medicine they need.
"It contributes to noncompliance with your medication, because it's difficult to get it and maintain consistency in taking it," he said. "It's one of those complex interplays between life factors, the nature of mental illness, brain chemistry, noncompliance and the fact that medication, for example, becomes less effective if you're taking other drugs."
Government officials can address homelessness, Hoffman said, by providing services to increase stability in the lives of the homeless.
Kelvin Etheridge, 50, of Roxbury, agreed that homelessness can substantially impact the family dynamic, and should be addressed by government officials.
"It's probably very difficult and very upsetting to have a homeless person in your family," he said. "I think there's a lot of ways that [the government] can help people access mental health services and provide things like housing for people. I think Boston and the United States government could really do a lot more in that area."
Other residents, like Colin Schofield of Kenmore, agreed that city government should do more to address homelessness in Boston.
"There's probably a pretty high association between mental health problems and homelessness," the 23-year-old said. "I wouldn't say that all the responsibility lands with the city government, but I do think the local and state government should do something more to help out."
Sarah Dickinson, 55, of Jamaica Plain, said mental illness in Boston is a likely factor to the city's rising homeless population.
"Generally, Boston doesn't provide very good mental health services," she said. "It's also hard to keep a job, so I'm not surprised a lot of people are homeless. I think it is the responsibility of the Boston city government to deal with this issue, but honestly I don't know how much they can do. I feel like it involves having more treatment centers and hospitals."