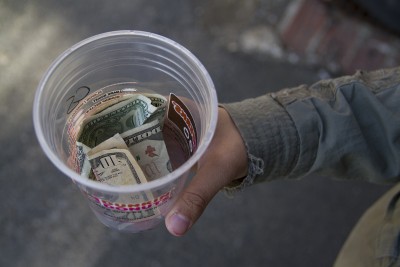 Boston Mayor Martin Walsh's budget proposal for Fiscal Year 2017 includes the allocation of $1.3 million to further the progress of the city's "Action Plan to End Veteran and Chronic Homelessness in Boston," according to a Wednesday press release.
Walsh stated in the release that he hopes the new funding will help improve conditions for
the homeless population within the City of Boston.
"I'm proud that through thoughtful savings and finding new efficiencies, we are able to increase funding to help our homeless residents and not only find safe, stable housing, but to access the supports and services they need," Walsh said in the release.
The $1.3 million allocation will fund the formation of a full-time triage staff at the city's Southampton Street Shelter, provide necessary assistance for homeless families to move them into housing as quickly as possible and cover the cost of resources needed to offer emergency shelter to homeless families who do not qualify for state assistance, according to the release.
The release stated that the budget also outlines an increase of $2 million in federal funding to build permanent housing for the homeless, and an additional $1 million investment to improve safety and services at the Woods Mullen and Southampton Street shelters.
The new allocation for funds is a part of the Walsh administration's plan to address homelessness within Boston, according to the release.
"The Walsh administration's action plan to end veteran and chronic homelessness set forth the goal of ending veterans homelessness by 2015 and chronic individual homelessness by 2018," the release stated. "In his January 2016 State of the City speech, Mayor Walsh announced that Boston had effectively ended chronic homelessness among veterans."
Joe Finn, president and executive director of the Massachusetts Housing and Shelter Alliance, expressed his support for Walsh's allocation of funds to end homelessness in Boston.
"It's a very positive, positive thing," Finn said. "Splitting the money to go to both the needs of housing and services for the chronically homeless is a big step toward ending chronic homelessness in Boston as a whole."
Thomas Byrne, a professor at Boston University, praised Walsh's administration for its action plan to end homelessness, and he specifically commended the allocation of funds to develop the rapid rehousing program.
"I think it's a positive step in the right direction," Byrne said. "Especially the $900,000 that they've pledged to support rapid rehousing, which is essentially a means by which to provide people with financial assistance and a bit of case management to help them exit homelessness as quickly as possible and to get into permanent housing."
Byrne also said Walsh's FY17 budget is representative of national trends in solving the problem of homelessness.
"I think what they are planning to do with the money is a really good idea," Byrne said. "It is in line with a lot of what is emerging nationally as some of the new best practices for dealing with single adult homelessness."
Several Boston residents expressed their approval for the new funding despite Walsh's other budget measures.
Margaret Morrill, 74, of Allston, said she agreed with Walsh's effort to reduce the number of homeless individuals in Boston.
"I think it's a really good investment," she said. "It should work, and they should definitely give it a try. I'm in favor of it because I think it's commendable of the mayor to extend this effort."
Dusten Pettengill, 29, of Allston, expressed his dissatisfaction with some of Walsh's practices but approves of the mayor's plan to end homelessness in the city.
"I think that sounds like a good plan," he said. "I think it's great. I'm not a big fan of Walsh, though. He took $20 million out of the public school budget, and I don't think that was in the best interests of Boston. That's a great plan, though. Anything for the homeless is awesome."
Patrick Harrington, 22, of Fenway, said Walsh's plan to provide housing for homeless individuals is a logical step.
"In theory, it makes sense for the city to be dedicated to getting homeless people to the next step, which is the hardest part," he said. "The idea of getting people away from homelessness by transitioning them into homes and a more normal, stable life makes a lot of sense to me."
A previous version of this story described Patrick Harrington as a 26-year-old man rather than as a 22-year-old man. This correction is reflected in the story above. We regret the error.