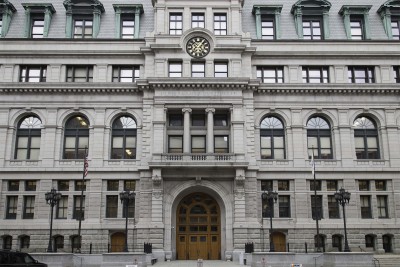 Massachusetts Gov. Charlie Baker nominated Hélène Kazanjian Thursday to fill a position in the Massachusetts Superior Court, according to a Thursday press release.
The release stated that if confirmed, Kazanjian, chief of the Trial Division in the Attorney General's Office, will serve as the associate justice for the Massachusetts Superior Court, a seat that was vacated by Patrick Brady's retirement in January 2015.
In the release, Baker praised Kazanjian for her experience and qualifications.
"If confirmed, Attorney Kazanjian will bring to the bench nearly 30 years' experience in public service and private practice handling the types of criminal and civil cases heard by the Superior Court," Baker said in the release. "Attorney Kazanjian has a long record of accomplishment and public service and I am pleased that she is willing to continue to serve the citizens of the Commonwealth."
In the release, Massachusetts Lt. Gov. Karyn Polito echoed Baker's support for Krazanjian.
"It is important that all Superior Court justices have the temperament to run effective, efficient and impartial courtrooms, and I am confident Attorney Kazanjian will demonstrate these skills and sound legal judgment if she is confirmed as a judge," Polito said in the release.
Robert Jubinville, a member of the Governor's Council, explained the process of confirming a nomination. The council is in charge of approving all gubernatorial appointments.
"The way it works is … the governor nominates somebody for the position," Jubinville said. "That person then has to come before the governor's councilors. There's eight of us, and we give a hearing. We're not required to, but we do, where we ask questions of the nominee. The nominee has witnesses who come in."
Jubinville added that this hearing is open to the public.
"A week later, we usually vote on the nominee," Jubinville said. "If the nominee receives the majority vote, five votes, he or she becomes a judge. If they don't, then they do not become a judge."
Jubinville said the commonwealth has multiple people who are qualified for such a position in the Massachusetts Superior Court.
"The Superior Court is one of the most prestigious courts in the country," Jubinville said. "It has been in business since 1860, and other state courts throughout the country have used it as a model when they formed their superior courts or courts of record. So it's a very prestigious position, as all judgeships are, but this a big position."
Jubinville also said the court should have a combination of people from different backgrounds.
"You need a good balance of prosecutors, defense lawyers," Jubinville said. "When you overload it on one side or the other, it changes the dynamic of the court. My job, as I see it, being elected to this position, is not to vote for every nominee Gov. Baker, or any other governor, puts up. I vote whether or not I think that person is going to be a good fit for our state courts and will treat the citizens of this commonwealth fairly."
Several Boston residents expressed trust in Baker's ability to nominate a qualified candidate to the Massachusetts Superior Court.
Leah Anderson, 33, of Brighton, said she believes Baker will make a good choice for a nomination to the Superior Court.
"I trust Gov. Baker," she said. "I'm sure he's put lots of thought into this, and I think he'll really choose someone who is well equipped to fill the position."
Ryan Senkier, 37, of the South End, agreed that Baker would choose a suitable nominee.
"I think anyone who is nominated is there for a reason," he said. "I'm sure she'll go through a process to actually get the position, but I trust that she's well suited for her new position."
Talia Sepersky, 30, of Allston, said she hopes Kazanjian is well qualified for the position.
"The Superior Court is important," Sepersky said. "I'm sure Baker made his nomination based on something, but I really hope the nominee is well prepared for her new position."