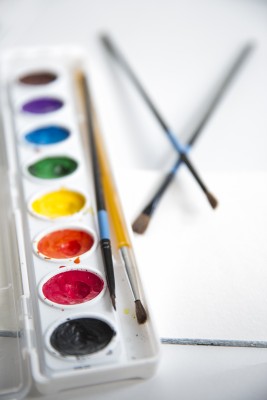 Boston Mayor Martin Walsh announced Monday the expansion of the epicenter of Artists for Humanity, a nonprofit that uses art to prepare teens for the workforce, according to a Monday press release.
Walsh said in the release that the expansion, funded by a $1.5 million donation from Liberty Mutual, will create opportunities for students to utilize art in the workforce.
"Artists for Humanity is building a new generation of Boston-based artists and creative thinkers, and this expansion project will allow them to provide even more opportunities for our youth to become involved in creative work environments," Walsh said in the release. "Their innovative approach combines arts and culture with STEM curriculum to give our young people the skills to think critically and obtain well-paying careers in the future."
Of the $1.5 million donation, $1 million will be allocated toward the creation of a Liberty Mutual Career Center. The remaining $500,000 will help AFH meet its general fundraising goal, according to the release.
Andrew Motta, operations director for AFH, discussed features of the Liberty Mutual Career Center.
"We will work with the kids for a discreet period and then work to get them placed within building trade apprentice programs," Motta said. "They're giving us additional funding for our makers' studio, which will be similar to a gym membership where we'll have all different types of equipment."
Motta added that the studio will house art-making equipment including green screens, a welding apparatus, 3D printers and a woodshop. Motta also described the work opportunities that AFH provides for students.
"We do things from creating paintings for exhibition or sale, we do bike racks, outdoor sculptures, benches for the MBTA, furniture for different corporations, we screen print T-shirts, create logos, print wall graphics, shoot videos and photography," Motta said. "We earn about $1.7 million each year from selling artwork and services by the teens."
Motta said AFH programs are a vital experience for the city at-large, as well as its students.
"When business people come to us, they need to turn to a 16-year-old kid to create a product that they can't create for themselves," Motta said. "Through that interaction, the adults see young people in a different light, and the teens see themselves having a different role in the world."
Motta said expanding the program will use art to unite students and adults in a unique way.
"We are one of the few places where all different types of communities can come together and interact as equals," Motta said. "We'll be able to become a center for art and young people, and really bridge communities by showing the world what young people can do."
AFH hires 300 students each year and hopes to increase that number to 600 in the future, according to Motta.
Several Boston residents agreed that the expansion will benefit the city's students by bringing new opportunities to young people.
Katherine Rice, 45, of the North End, said AFH programs will teach students how to live independently.
"It will provide young kids with the foot in the door to start being responsible and making money for themselves," she said. "It's important to give kids the chance to learn something new, so the arts program might expose them to things they've never really tried."
Thomas McLean, 31, of Fenway, said students benefit from programs that teach specific skills.
"I know people who went to a vocational high school a while back, and they were able to go right into the workforce," he said. "It seems like these sort of programs have some real benefits in the long run."
Rosana Rodrigues, 27, of Back Bay, said the program will enrich students while keeping them out of trouble.
"It will help students understand their culture and creativity," she said. "The first thing that came to my head was that chances for young kids to get jobs and do manual labor will help keep them off the streets and away from violence or trouble. This sounds like it would give them something else to do that could have value."
Maddie Domenichella and Joseph Martorana contributed to the reporting of this article.