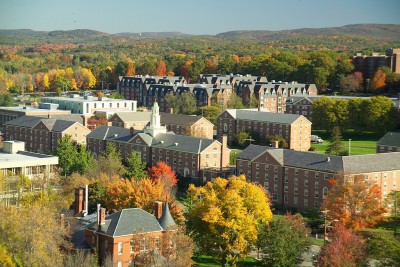 The Baker-Polito administration announced the launch of a new web portal, MassTransfer, which provides Massachusetts students and families with interactive tools to explore savings and methods for transferring colleges, according to a Tuesday press release.
The new portal's interactive tools show students exactly how their course credits will transfer from a two-year community college to any of the state's 28 undergraduate public colleges, according to the release.
"This new online tool will save students valuable time and money while completing their degrees," Governor Charlie Baker said in the release.
MassTransfer offers a savings calculator, which assists Massachusetts students and families in calculating how much they can save when they earn an associate degree at a community college, and then transfer to a state university to complete their bachelor's degree, according to the MassTransfer website.
"We are thrilled to offer the students in our Commonwealth substantial savings off an already great deal on college credentials," Lt. Gov. Karyn Polito said in the release.
Katy Abel, a spokesperson for the Massachusetts Department of Higher Education, said the portal will likely result in Massachusetts having more college graduates to fill jobs in a variety of industries.
"This is both about affordability and … college completion," Abel said. "The public higher education system is looking at how can we get more students to graduation day so that they can take advantage of the opportunities that are waiting for them in the workforce."
Abel said she hopes the new portal inspires a national movement of making higher education more accessible for students across the country.
"We want to make it easier for students to complete college, not harder, and if we can do that, we will be setting a great example for the rest of the country," she said.
Jan Brogan, a spokesperson for the University of Massachusetts system, said students are more likely to succeed when they have a comprehensive plan to achieve their bachelor's degrees.
"When all the information is available to them and upfront, particularly if they're motivated, they're going to get through college in a more timely manner," Brogan said.
Brogan said timelier graduations benefit not only the students, but Massachusetts and its universities as well.
"That's going to benefit them because it's going to cost less money, and it's going to benefit the university because we get to graduate them, and it's going to benefit the Commonwealth because the state needs college graduates," Brogan said.
Several Boston residents expressed resentment toward the cost of college tuition and said they are glad to hear about the Baker-Polito administration's efforts to make college more affordable.
Leslie Sterling, 59, of Brighton, said she hadn't previously heard of the MassTransfer website, but she hopes it turns out to be a success.
"I certainly think that if the cost of two-year college went down, maybe that would encourage a lot of marginal students who thought that they couldn't afford it to go, and maybe for four year colleges as well," Sterling said.
Zak Kopp, 23, of Jamaica Plain, recently graduated from college and said he wishes his tuition wasn't so expensive.
"It's nice to go to a prestigious university, but it really puts a dent in your wallet," he said.
Ian Mackey, 29, of East Boston, said college tuition costs are too expensive, but the new MassTransfer website is a good first step toward helping more students go to college.
"It's a good start for kids who are in [Massachusetts] who maybe weren't sure if they were planning on going to school," Mackey said. "I'm hesitant when access to education depends on your zip code, but it's a great start."