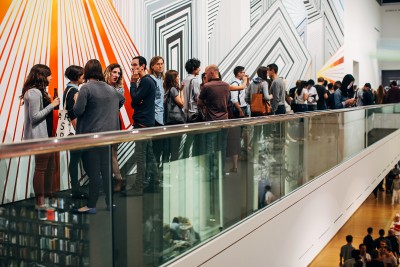 Six hours after the party started, the line coming out of the Museum of Fine Arts still snaked around the block.
Almost 7,000 people attended the MFA's first overnight party Saturday night and into Sunday morning, according to the museum's spokesperson Matthew Whiman. The party launched #mfaNOW, the museum's new season "celebrating contemporary art and artists." The museum brought in a wide variety of performers and activities to keep partygoers busy throughout the night.
"With all of these contemporary exhibitions opening, [MFA Ann and Graham Gund Director Matthew Teitelbaum] thought it would be the perfect opportunity to have the community come together and celebrate contemporary art and artists," said Dawn Griffin, the MFA's senior director of communications.
Christian Marclay's "The Clock" was a big factor leading to the museum's decision to stay open all night, Griffin said. The "contemporary masterpiece" is a 24-hour video collage that comprises "thousands of fragments from television and film history," according to the MFA's website. Each scene in the film shows a clock with the current time, so the installation is a functioning timepiece as well.
"I'm looking forward to … staying until two or three in the morning and going in and seeing parts of the clock that people normally don't get a chance to see," Whiman said.
The launch party also featured a live sound performance from Boston-based deejay and all-woman artist collective Substructure; groups from Harvard University and the Massachusetts Institute of Technology that presented interactive art and technology installations; and a booth hosted by MassVOTE with voter registration information. Attendees could also take part in gallery talks and tours with curators, artist demonstrations, sketching in the galleries and free yoga and running in the morning.
"People are here that have been coming to the MFA for a while and really love the museum, and there's also people who have never been to the museum before and know nothing about it, and I think that's really great," Whiman said. "There's something for everyone. It's a really great energy."
The museum wanted to bring in visitors of all ages to the launch party, Griffin said. Although the overnight aspect of the event attracted college students, there were also activities such as art making for children in the morning so that parents and their kids could also have fun.
"We know that millennials and college students are looking for things to do in the evening and are also more apt to staying up really late," Griffin said. "I love the idea that people can come here at midnight or show up at 7:00 tomorrow morning and do yoga."
Saturday night's party was the first in a series of four overnight parties at the MFA that will take place each month through December. October's #mfaNOW Overnight will be a college night with many of the same features as the launch party, but geared specifically toward students. Most students at schools in Boston — including Boston University — can already get into the MFA for free at any time, however, because of the MFA's University Membership Program.
Charlotte O'Donnelly, 23, of Cambridge, said she went to the launch party because entry was free. O'Donnelly graduated from Northeastern University in May and has not been back to the MFA since.
"I used to go in college whenever they had a new exhibit if I could find the time," O'Donnelly said. "Knowing that college kids don't have a lot of money, it's nice to let them in for free."
Nneka Sobers, a first-year graduate student at MIT's School of Architecture and Planning, had never been to the MFA before the launch party.
"This was a really good incentive for me to finally come," Sobers said. "Who doesn't want to be in a museum at night?"
Sobers, who found out about the event through Facebook, said she thinks the museum does a good job of attracting college students from all over Boston.
"I think it's a really nice way to transform the meaning of what a museum is and how people interact with it," Sobers said. "Having a party makes the museum seem more social. I think it's very successful in catering to our generation."