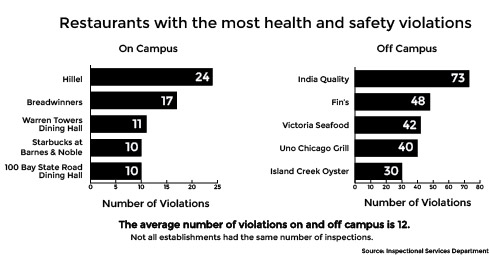 Pink mold inside an ice machine. Dirty cooking equipment. Improperly stored rice from last night.
During an inspection last winter, these were among seven health and safety violations that city inspectors found in the Warren Towers dining hall.
In fact, according to a Daily Free Press review of Boston Inspectional Services Department's public data, approximately 40 percent of the time, inspectors found violations eateries in and around Boston University's campus between January 2015 and September 2016.
Fifty-six restaurants, dining halls and quick food stops along Commonwealth Avenue and streets branching off of campus amassed a total of 716 inspection violations.
"The mayor's committee is making sure everyone has a really good dining experience in the city," ISD Commissioner William Christopher said. "Our response is to ensure that. When we find violations, we want to correct them."
The "Mayor's Food Court" rates violations as noncritical, critical or foodborne critical, Christopher said. For example, food that isn't heated or cooled properly can be a foodborne critical violation, he said.
About 67 percent of violations found in and around BU campus were not critical, yet 23 percent are foodborne critical and could pose a threat to students and residents, the review found.
On average, each eatery around BU had four inspections between 2015 and 2016. The number of violations for each establishment averaged to about 12, including eight non-critical violations and three foodborne illness critical violations.
The kosher dining hall inside the Florence and Chafetz Hillel House had 24 violations — the highest of all the BU Dining Services eateries. Its violations ranged from missing allergen advisories on menus to a lack of employees who are trained in anti-choking.
The next one on the list is Breadwinners on the second floor of the Questrom School of Business, with 17 violations, 10 of which are foodborne critical violations.
The Fresh Food Company at Warren Towers had 11 total violations over the year and a half, lower than the area's average.
On the other side of the spectrum, Basho Express, Einstein Bros. Bagels in the basement of the College of Arts and Sciences and Starbucks at 700 Commonwealth Ave. had no violations between January 2015 and September 2016.
Scott Rosario, a spokesman for BU Dining Services, said city inspections are a standard practice.
"Dining Services receives inspections at 20 locations twice a year from the City of Boston," he said. "Most often those inspections result in a pass without need for re-inspection. Occasionally a location will receive a fail with need for re-inspection."
Anna Nizhnik, a senior in CAS, said her friends who work with BU Dining have told her stories about things that have gone wrong.
"It's not the best, so I'm not entirely surprised, because I've known the quality of the food is not the greatest," she said. "I still like Panda [Express.] I still like orange chicken, so I'm going to go there anyways."
The city inspects all restaurants at least once a year, and all restaurants with critical violations will be re-inspected until they pass, according to ISD.
A management team oversees dining safety and sanitation to minimize potential violations, Rosario said.
"All of the Dining Services locations that have required reinspection have received a pass after their reinspection," he said.
For students like Max Brewington, a CAS freshman, cleanliness and safety is always a concern. Brewington hopes BU will address that in the dining halls and the George Sherman Union.
"I understand that people make mistakes and stuff, but when it comes to health concerns, they should keep safety in mind," Brewington said. "It'll make me think about where I'm going and to look into places before I eat there."
Eateries pass or fail inspections based on state sanitary codes, and the information is added to a database that is publicly available online, Christopher said.
While it is common for establishments in the BU area to have violations, data shows that only two of 56 restaurants failed their inspections — the McDonald's on 540 Commonwealth Ave. and Thai Dish Authentic Cuisine in Kenmore Square.
Most restaurants pass their inspections, Christopher said. Eateries around universities fare as well as those in other parts of the city.
"It ebbs and flows," he said. "There's no consistent failure that's problematic."
Janelle Jorgensen, a first-year graduate student in the College of Engineering, said she frequently eats at places like Noodle Street because she does not have a BU dining plan. When she is on campus, she may stop at the GSU.
Jorgensen said health and safety violations aren't usually on her mind when she goes out to eat.
"It's one of those things you don't really know what's going on until stories like this come out," she said. "You'd like to think that your food is being made in a clean, healthy way."
Kalina Newman and Sophia Eppolito contributed to the reporting of this article.
Correction: an earlier version stated that ISD found violations in 40 percent of the restaurants in and near BU campus. It should be 40 percent of all inspections conducted between 2015 and 2016, ISD found violations at these restaurants.