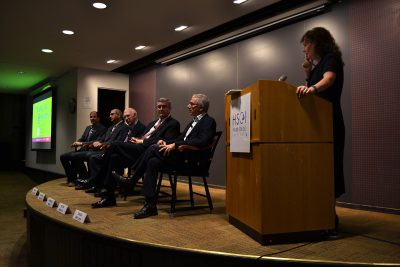 People with Type 1 diabetes have to monitor their blood sugar levels at least four times a day, according to Diabetes Self-Management's website. This means pricking their finger with a lancing device and measuring their blood glucose level with a special test strip and meter. In the near future, however, people suffering from diabetes or who had their pancreas removed may not need to worry about checking their blood glucose levels all the time, thanks to stem cell research.
Experts discussed how medical organizations have been working toward improving the lives of those with diabetes through stem cell therapy in Monday's HUBweek event "A Quantum Leap in Diabetes Treatment" at Harvard University.
The panel, moderated by WBUR's CommonHealth blog editor Carey Goldberg, was made up of Douglas Melton, a co-director of the Harvard Stem Cell Institute; Sayeed Malek, the clinical director of transplant surgery at Brigham and Women's Hospital; Peter Amenta, president and CEO of the Joslin Diabetes Center; Robert Millman, CEO of Semma Therapeutics; and Gordon Weir, the Diabetes Research and Wellness Foundation chair at the Joslin Diabetes Center.
Melton explained that in the lab, researchers have been creating stem cells that act like beta cells, which are on the pancreas and secrete insulin. Diabetics and people who have had their pancreas removed have defective beta cells or no beta cells at all, so their bodies are not able to produce the right amount of insulin to properly regulate their blood sugar level.
"The amount of work that it requires, even with the glucose sensors and pumps, is enormous," Weir said. "These kids have to worry about every meal they have, every bit of exercise."
Part of the difficulty of transplanting stem cells in place of beta cells into patients' bodies is that the immune system automatically fights foreign bodies, so it is difficult for the stem cells to be effective. In addition, stem cells sometimes form small tumors.
"We have to show that these cells are committed to being beta cells," Millman said.
Melton said the first patients who can participate in clinical trials of stem cell therapy are those who have had their pancreas removed. That way, the immune system will not try to negate the stem cells. He said that Type 1 diabetics probably will not be able to undergo this treatment for another five or 10 years.
"It's very hard to focus on problems that take a long time," Melton said. "But Boston has a great tradition of focusing on big problems with teams of people, so this is the best place to try and solve that problem."
Boston is a unique city, Melton said, in that there are many different institutions working toward innovation that can all collaborate and help each other research new medical advancements.
"As complicated as it is to turn a stem cell into a beta cell, it's also a little bit complicated to put a whole team together that can do this together," Melton said. "We have fantastic hospitals, research institutes, and frankly this would not be possible if this work had been started somewhere else."
Brock Reeve, the executive director of the Harvard Stem Cell Institute, said he agrees that Boston is a great place to do research in the life sciences.
"We're operating within the Boston ecosystem, where you have not only the other academic institutions, but you have investors, biotech and pharma companies," Reeve said.
Amenta said stem cell research on diabetes could potentially influence research on other diseases, too. Diabetes research could open doors to stem cell therapy for other diseases, Reeve said.
"The science is getting to a point where much of the science is becoming clinically relevant," Reeve said. "Obviously there's a lot more to be done, but we're starting to see that happen and I think it's a particularly exciting time now."
Weir said that it has always been "intriguing" how much research has been done in the past few decades on diabetes, which is such a widespread disease but ultimately easy to understand.
"It's such a simple disease, conceptually, that causes so much trouble," Weir said. "It can't be that difficult to fix, but it has proven to be very difficult. These latest advances are very exciting."
Although it may be years before diabetics are able to benefit from stem cell therapy, Millman is confident he and the other researchers will figure out a safe transplant method in the near future.
"We like to say we're providing hope with very little hype," Millman said. "It is a slow process but we're going to do this right, so we'll take time."