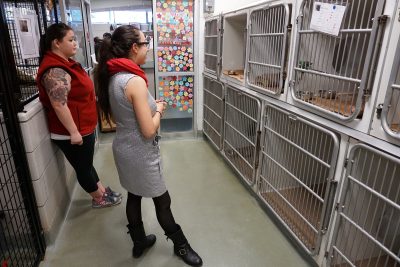 As part of an ongoing regulatory review process, the Baker-Polito administration partnered with the Animal Rescue League of Boston to highlight improvements in Massachusetts' animal shelters, according to a press release.
The review of the shelters aims to curb government regulations around the Commonwealth by simplifying and consolidating regulations, recalling outdated regulations and unifying the code of regulations, according to the release.
"This administration has devoted itself to better serving our Commonwealth's cities and towns," Lt. Gov. Karyn Polito said in the release. "This comprehensive review of over 1,700 regulations, in addition to municipal reform legislation enacted earlier this year, will ease restrictions and make it easier for them to do their jobs and serve their constituents."
As a result of this comprehensive regulatory review, the Baker-Polito administration reduced quarantine periods for unvaccinated dogs and cats with possible rabies exposure from six months to four months, according to the release.
These changes are consistent with national veterinary standards, and will allow shelters like the ARL to take in new animals at higher rates, according to the release.
With three locations throughout the Commonwealth, the ARL focuses on veterinary and animal training services, animal rescue and the enforcement of animal welfare laws, according Dot Joyce, a spokesperson for the ARL.
Joyce said the reduction of the quarantine period allows her organization to operate more efficiently, as this change means they will have space to take in more animals.
"All shelters have space constraints, and when we have to quarantine an animal, it takes a significant amount of space and resources to do that," Joyce said. "So, freeing up space allows us to care for more animals."
The shorter quarantine period also services to improve the health and well-being of quarantined animals, according to Joyce.
"We've found that after three months or so, animals that are in quarantine tend to start to exhibit negative behavior towards themselves and others," Joyce said.
The ARL, which frequently advocates for the protection of animals, is currently working to gain support for Question 3 on the Nov. 8th ballot, according to Joyce.
The bill suggested in Question 3 would prohibit the sale of eggs, veal or pork produced by an animal "confined in a cruel manner," according to the proposed legislation.
"Animals that are going to be kept in pens … [should] have enough room so that they can actually turn around instead of being forced to remain laying down while they're in their gestation stages," Joyce said.
While the regulatory review addresses some of the problems facing animal shelters today, several Boston residents cited a variety of other concerns in regards to animal shelters.
Marguerite White, 50, of Dorchester, said while she does not own any pets, animal welfare is still important to her and she supports the work of no-kill shelters.
"Welfare of all living things is important to me," White said. "I wish more people adopted from shelters than from breeders. I wish that there was public funding to spay animals."
Steven Barthel, 39, of Allston, said animal shelters serve an important purpose in society because they provide care for animals in need, but it would be more ideal for animals to live in homes instead of shelters.
"[Shelters] need proactive programs to try to get the animals to owners or people who can take care of them in a more intimate setting in their homes, make sure they're not in pain or abused, and that they get medical treatment," Barthel said.
Lauren Barford, 32, of South Boston, said she thinks local shelters do the best they can with the resources available to them, but she thinks they should receive more support from the communities they service.
"I have a dog from a shelter, so I think they're great as long as they're no-kill shelters," Barford said. "The one I had gone to had been really cramped and they had a lot of cages on top of each other, but they did their best to keep it maintained and clean."