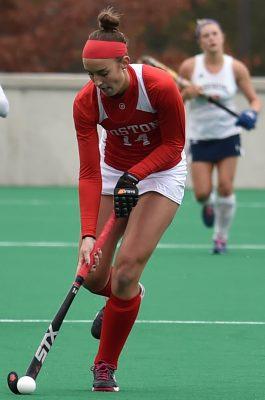 The No. 15 Boston University field hockey team is back on track, ending its four-game losing streak with a 2-1 victory over Patriot League foe Bucknell University in Lewisburg, Pennsylvania on Saturday.
"The win on the road versus a good opponent feels great," BU head coach Sally Starr said. "Even more importantly is that we played really good hockey as a team."
The Terriers (8-4, 2-1 Patriot League) opened the game with strong control of possession, as they topped the Bison (5-7, 1-2 Patriot League) 6-1 in shots through the first half.
In the 21st minute, senior forward Amanda Cassera put BU on the board with a backhand shot off a pass from senior midfielder Hester van der Laan. Van der Laan was able to split the Bucknell defense and pass to Cassera, who netted her team-leading sixth goal and 14th point of the year.
"Amanda scored a big goal for us and has been playing and practicing really well this week," Starr said. "She is also leading this team with her strong work ethic."
Though no more goals were scored in the first 35 minutes of play, the Terriers' offense got in a groove, and after allowing 10 goals through its four-game skid, the defense settled in as well.
"We worked really hard this week on outletting and valuing possession of the ball," Starr said. "We cut down on unforced turnovers and got good numbers up in our attacking end."
The second half played similarly, with BU starting off the period with frequent possession of the ball. Exactly 55 minutes into the game, junior fullback/midfielder Allie Renzi was able to capitalize off a penalty corner opportunity, putting the Terriers up by a pair.
Senior forward Taylor Blood took a shot from the top of the circle that was saved by Bucknell goalkeeper Emily Finn, but the rebound directed toward Renzi, who batted it in past Finn for her fifth goal of the season, tied with van der Laan for second on the team.
"Penalty corners continue to be an area that we are working hard to improve," Starr said. "We did a good job of getting quality shots on goal."
The Terriers dominated shots in the second frame as well, taking seven to the Bisons' two. After both halves, BU also had three more penalty corner opportunities than Bucknell.
Before senior goalkeeper Cammy Jensen was able to come away with a shutout, Bucknell scored on a breakaway in the 63rd minute. Forward Nicole Rupnik ran down with the ball on a one-on-one opportunity, and beat Jensen for her sixth goal of the year.
BU held on for the remainder of the game, its defense shining in the process. Jensen made one save during the game, while the Terriers forced Finn to make four.
After starting the season 7-0, the Terriers are now tied for second in the conference standings with Lafayette College. American University is ranked first, having not lost a league game yet.
That being said, Starr was pleased with how her team rebounded following its losing streak.
"I think we have done a great job refocusing on what is important," Starr said. "Just playing good attacking, fundamental team hockey."