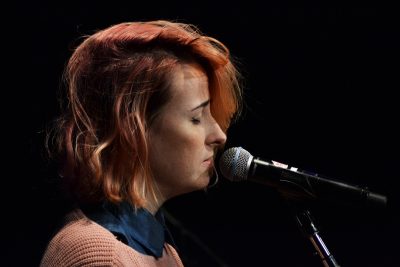 With YouTube as a public platform to perform, many stars are born with just the help of a video camera and a computer. Justin Bieber, Jenna Marbles, Ryan Higa and Kina Grannis are only a few users in the community where subscribers and views can lead to a professional career.
Since its launch in 2005, YouTube has grown into a digital presence where talent does not go unnoticed. The Berklee College of Music's Red Room at Cafe 939 welcomed singer-songwriter Tessa Violet, someone who has taken advantage of the online space, to the stage on Wednesday.
Screaming fans crowded into the intimate setting excited to see Violet, along with fellow YouTubers Dodie Clark, Rusty Clanton and Jesse Cale, in the fifth concert of their fall 2016 tour.
To start the sold-out show off, Violet jumped up on stage in her light-up, sparkling blue shoes, paired with knee-high socks and a light pink sweater, which matched the faded pink tints in her hair. A high-energy performance, she kept the crowd jumping up and down to her latest pop songs.
Of course, this success didn't happen overnight.
Violet, 26, began her YouTube career almost 10 years ago after coming across a YouTube vlogging channel. She thought to herself, "Hey, this seems cool," and began making vlogs and music videos every day during that summer, she said
"I've been singing since as long as I've had a voice," Violet said. "All I needed to do was get better."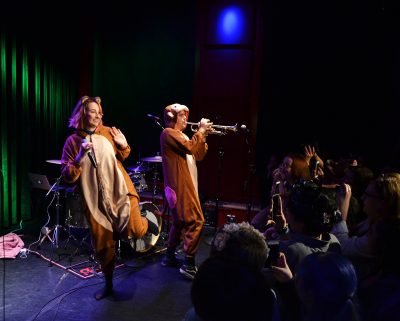 And so she did.
When Violet turned 23, she began writing songs, and it wasn't long before she became a YouTube singer-songwriter with over one million subscribers, she said. Violet said she draws her inspiration from her mother, whom she described as "a hard-working recreational writer and poet."
Violet also manages her tours, adding on to her responsibilities as a singer-songwriter.
"I try to think of anything that could go wrong and preemptively try to solve it," Violet said.
Violet said she loves pop music and aspires to one day be able to have a production of her own. She said she enjoys listening to artists such as Taylor Swift, Alessia Cara and Troye Sivan.
But while Violet said she's inspired by the work of other hit artists, she can also reflect on her own accomplishments and personality traits.
When asked to describe herself, Violet said she thinks people view her as "organized, ambitious and warm." This was evident on the night of the concert. She described herself as "just Tessa" on stage, emphasizing how much she wanted to connect to attendees as a human, rather than a performer.
And it was clear she wanted to be up there. The way she moved with the music, the way she expressed herself. A passionate artist with a soft voice and a warm smile.
"It's very impactful to touch even one person's life," Violet said.
Halfway through the performance, she told the audience about her anxiety and how she had been going to counseling for the past few years — one of the best decisions she could ever make for herself, she said. Violet, who said she has great admiration for her counselors, spoke about how helpful they had been in her life.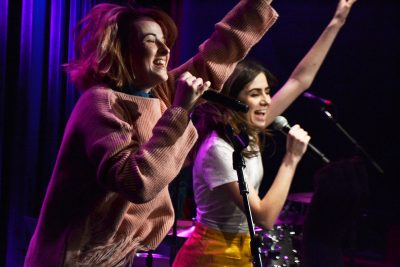 "I love the way they possess the ability to gently pull things out of you," she said. "The way they allow you to exercise fears about yourself."
Violet told the audience about how going to therapy made her realize that she wasn't alone. Moreover, she said therapy made her realize that it was okay to be her own person.
"That's the beauty of counselling," Violet said. "It's the beauty of music."
After sharing these personal details, she encouraged her audience by reassuring them of their individuality.
"You are the first and last you who will ever live in history," she said to the audience. "You are beautiful, you are lovable, you are likeable and you are unique."
After the tear-jerking show, Rusty Clanton, Violet's tour-mate and boyfriend, described Violet as one of the smartest people he knew, and though the tour was long, they all had a great time together. Every couple of days, he said, the group got together to do a "praiseworthy," a safe space where the tour members could be open with each other about aggravations, bringing the group closer together.
"I love working with my tour-mates," Violet said. "The biggest privilege is getting to love the people you're on tour with."