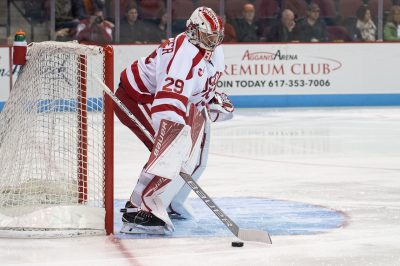 Reflecting in his office Thursday evening, head coach David Quinn said all he really asks from his team is that it improves every week.
So after a 12-day hiatus from NCAA play, the No. 4 Boston University men's hockey team has the opportunity to do just that with Hockey East play underway. Specifically, the Terriers (3-2) will visit Northeastern University — last year's shock conference tournament winner — on Friday night, only to host the Huskies (3-2-2, 0-1 Hockey East) Saturday evening.
While the 2016-17 season is still in its infancy, BU and Northeastern's recent run of form follow different paths. The Terriers are fresh off back-to-back wins over Sacred Heart University and No. 6 Quinnipiac University, while the Huskies were bounced, 3-2, in their conference opener against No. 19 University of Vermont.
Form aside, Quinn's side has been hard at work for nearly a fortnight, with last week procuring a creative approach to practice. The Terriers had that Monday off, hour-long sessions by position on Tuesday, split the team into two on Wednesday for separate workouts, had a full-team practice on Thursday, Friday off and an intra-squad scrimmage on Saturday with two referees. This week then followed a normal pattern, with the collective seeking to fine-tune specific areas.
"Offensive zone play is something that we're trying to establish more of," Quinn said. " … Puck possession. Defensively I thought we were really good against Quinnipiac. We broke out very well coming out of our own end; didn't spend a lot of time in our end. And our power play. Our power play has to be more productive and more opportunistic, so those are the things we focused on."
Despite the extended time off, Quinn said the coaching staff hasn't quite made lineup decisions for Friday night's tilt, but several updates did emerge from Agganis Arena. For starters, freshman Jake Oettinger – fresh off being named the Hockey East Co-Goaltender of the Month – was dubbed BU's No. 1 netminder, while junior forward Nikolas Olsson has been ruled out with an upper body injury.
Speaking of injuries, Northeastern is battling its own lineup questions in the season's early goings. Reports this week suggest forward Nolan Stevens – the owner of 59 career points – is out with a wrist injury. Meanwhile, only 14 of Northeastern head coach Jim Madigan's skaters have started all seven games, showing that he's often had to shuffle the lineup around.
It's also important to note the Huskies have racked up their three wins against Bentley University and Arizona State University, two of college hockey's lesser foes. But none of that means Quinn is counting out a Madigan-led squad.
"If you're standing around defensively against them you're going to pay a price and spend a lot of time in your own end," Quinn said. "That's priority one. Let's make sure we get to people quickly, good sticks, defend with our legs and not have to defend for a while."
There are three threats who will make that task especially difficult, though. The forward trio of Dylan Sikura, Adam Gaudette and Zach Aston-Reese have all scored 10 points or more, including a combined five goals on the power play. Then on the back end, Northeastern boasts Ryan Ruck, a sophomore goaltender with a 2.25 goals against average and .904 save percentage.
In other words, the Terriers know they can't take any shift off this weekend.
"Going over there, I'm anticipating a great crowd and a hostile crowd," Quinn said. "It's a place where there's a great atmosphere in Matthews [Arena], so they like to feed off their crowd and we're going to have to hopefully get off to a good start and take their crowd out of it early."
Whether BU can do that or not remains to be seen, but there is certainly reason for optimism around the team. After all, the Terriers are averaging the fifth fewest goals against in college hockey, all while potting on average the eighth most. Their penalty kill is also successful a staggering 95.3 percent of the time – good for second best in the country.
All things considered, are the Terriers getting better like Quinn hopes? This weekend series against Northeastern should provide plenty of answers to that inquiry.
"I was wondering, as is every coach wondering, how hard are you going to be to play against, are you coachable, are you mentally tough, are you in shape, are you willing to give second efforts," Quinn said. "So far we've done all those things, and I wish our record was a bit better, but they're not giving out the trophy tomorrow."