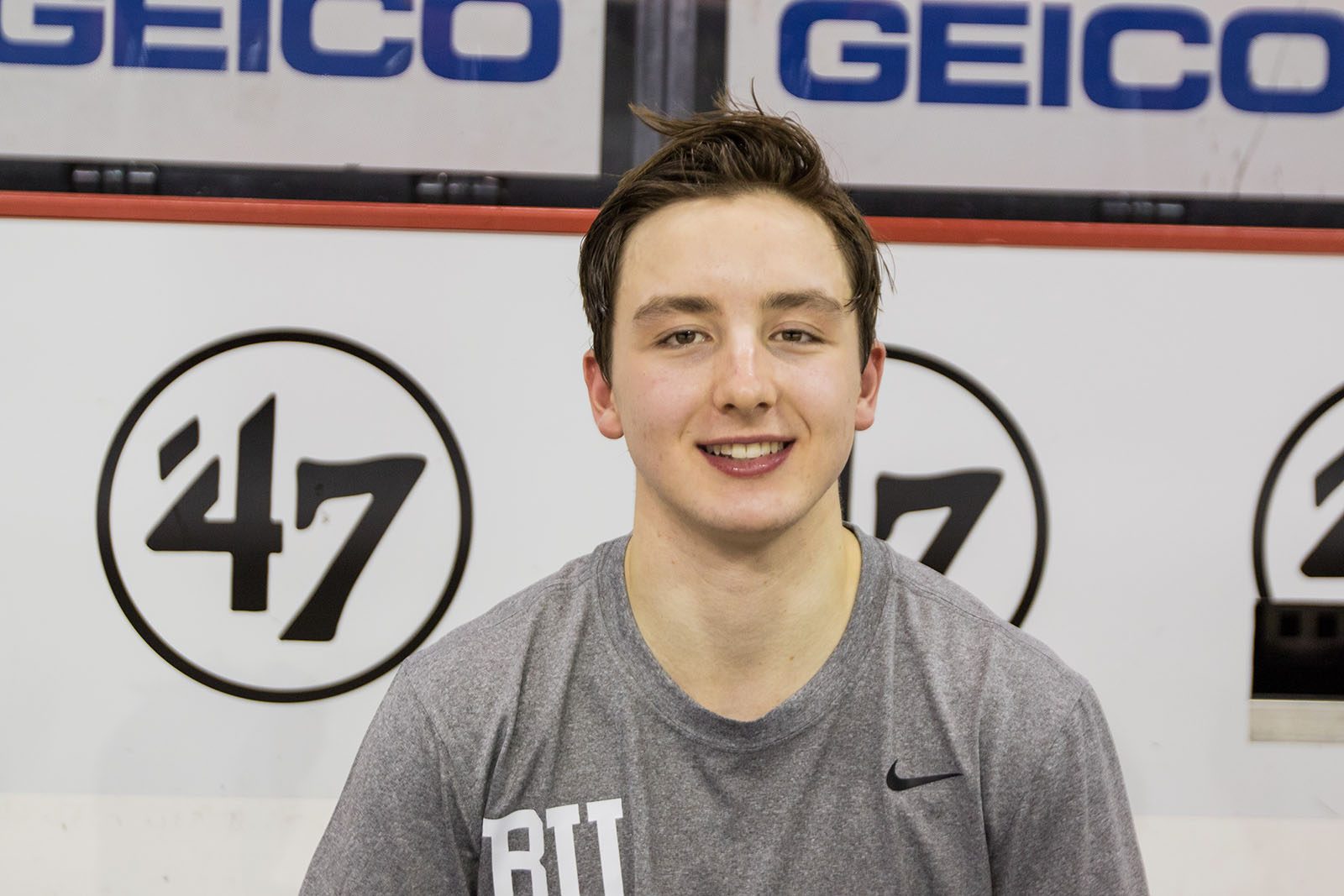 There was, understandably, plenty of excitement among Boston University men's hockey fans leading up to the start of the season.
Now ranked No. 4, the Terriers (3-2) were projected to be one of the top teams in Division I hockey after successfully recruiting a star-studded freshman class. Forwards Clayton Keller, Kieffer Bellows and defenseman Dante Fabbro were all drafted in the first round of the 2016 NHL draft, and goaltender Jake Oettinger will likely be a top selection in next year's draft.
Despite all the big names BU has pulled in, the best freshman on the ice so far has arguably been the 5-foot-9, 160-pound forward who just turned 18 this summer.
One of the lesser-known Terrier freshmen coming into this season, Patrick Harper has quickly exploded onto the scene as one of the brightest young stars in the Hockey East. The New Canaan, Connecticut native scored five goals in BU's first scrimmage against the University of Prince Edward Island on Oct. 1, then notched a hat trick in an exhibition versus the Under-18 U.S. National Team Development Program just five days later. His performance in those games earned him Warrior Player of the Week honors.
Once the regular season started, it was more of the same for Harper, as he owns a five-game point streak to begin his collegiate career.
"I just love his intelligence, his poise; he's such a heady player in how he makes guys around him better," said BU head coach David Quinn. "The way he plays, we knew it would translate to this level and [he'd] be able to have success. We thought that getting him in here this year and putting him with the guys we have, we thought he was going to blossom."
Harper first stood out during his two years at the Avon Old Farms prep school in Connecticut, where he led the Winged Beavers in points two seasons in a row. He captained the team his second year and led them to the NEPSAC semifinals, totaling 20 goals and 39 assists under head coach John Gardner.
The 2016 Nashville Predators draft pick has nothing but positive things to say about the coaching staff and his two seasons there, where he says he improved his game quite a bit.
"My time at Avon was definitely something pretty special to me," Harper said. "The three coaches there with Coach Gardner, [assistant coaches Leon] Hayward and [Bill] Maniscalco, just all their experience combined, just unbelievable. It's really an atmosphere where if you want to be a hockey player and improve day in and day out, it's a great intermediate staff and they really take pride in teaching every single kid how to play hockey and being the best player they can possible be."
Gardner, who has mentored successful NHL players like Jonathan Quick, Nick Bonino and Cam Atkinson throughout his 42-year coaching career at Avon Old Farms, said he noticed aspects of Harper's game that suggested he could excel at the next level, despite his lack of height.
"I saw his tremendous work ethic that he has, the fact that he loves the game so much, and what an elusive player he was," Gardner said. "At first I questioned his size because he's not very big at all. I've been watching him play for several years, I noticed that rarely does anybody center him up and hit him. Certainly a lot of people do try and hit him, but he's pretty smart, he's very elusive and he's tough to get, if you know what I'm saying."
It's hard not to notice Harper's size on the ice, as he's often dwarfed by the taller guys on the roster. That hasn't held him back, though, as Harper has learned how to excel despite being under 6 feet.
"I think [I'm] definitely using my size to my advantage and really getting under players and using my skating and vision and things like that to have that advantage," Harper said. "When you're smaller, you've just got to really work as hard as you possibly can to be as good as you can be."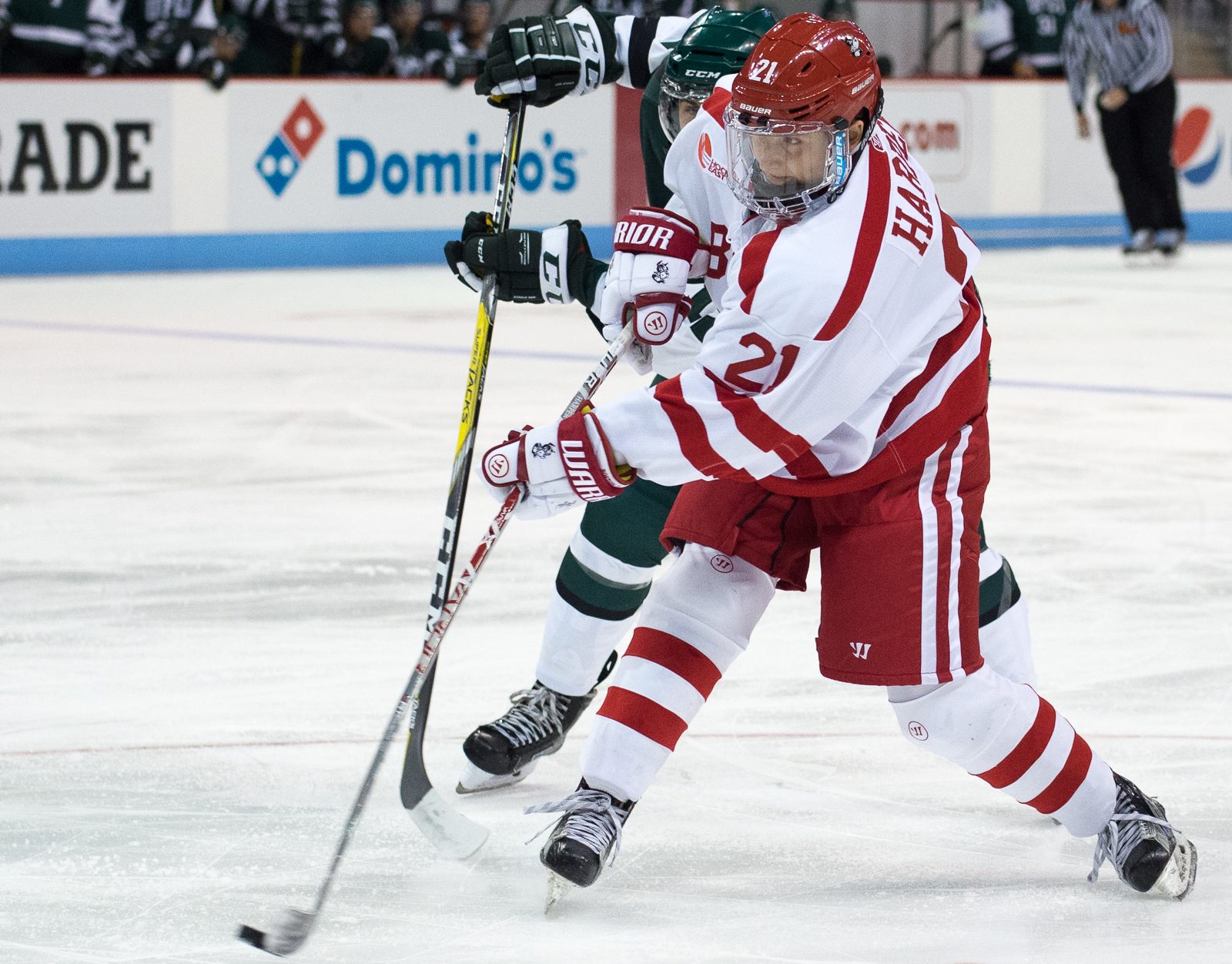 With his explosive, craft style of play on the offensive end, Harper began to draw attention from college programs seeking his talents, including BU. Former Terrier assistant coach Steve Greeley and current assistant coach Albie O'Connell watched Harper play in amateur hockey over the summer of 2014.
"[They] fell in love with him," Quinn said. "I remember them coming to me and saying 'We got to take this kid Harper.' They were sold on him. Obviously he fits the style we want to play."
It wouldn't take long for BU to lock down Harper, who committed to the Terriers in September 2014. Then, about halfway through last season, after losing former commit and current University of Connecticut forward Maxim Letunov, Quinn and his staff knew they needed Harper's skill at Agganis Arena as soon as possible.
"We had a spot for him [this year], and a spot in a significant role," Quinn said. "Just the way he progressed and the way he got better and better, when you commit to someone young, sometimes they progress faster than you think, and that's kind of what happened with him. We knew he was going to be able to come in here and contribute right away."
While Harper's talent was never doubted, he was often overshadowed by the likes of Keller and Bellows, who dominated for the U.S. NTDP last year.
Perhaps that's why Harper's play comes as a surprise to the Terrier faithful; it certainly came as a surprise to those who know Harper well.
"No," Gardner said when asked if he expected his former captain to excel so soon. "To be honest with you, I didn't. I thought he would be a very effective college player at BU if used correctly. But I think playing him with the right people is the key. People that can complement him and he can complement them, that's the key."
Quinn echoed Gardner's thoughts on Harper playing with the right people, saying he really wanted him on the roster this year because of their immense front-line talent.
"We thought playing with good players, better players than he's ever played with, was going to work to his strengths," Quinn said. "I'd probably be lying if I thought he'd get off to the blazing start he's had point-wise, but he's also had some puck-luck and he plays with good players. He's earned everything he's gotten."
It helps that the crafty forward is also one of the hardest workers around, but he credits the upperclassmen for helping him get off to this hot start.
"They've been unbelievable so far," Harper said. "The senior leadership is just very lead-by-example type and they're very serious out there and they want the best for each kid. They're very welcoming to the underclassmen, it's just really been a blast so far."
Of course, it's going to take more than a couple of nice games from Harper for this Terrier team to break through and make a deep run come April. BU was swept by No. 2 University of Denver just a few weeks back, suggesting that the Terriers aren't quite where they want to be yet.
The good news is that it's a long season and there's plenty of time to improve, something that Quinn fully expects the promising playmaker to do. He may not have been the most highly-touted BU recruit this year, but his impact and work ethic cannot be ignored.
"Off the ice, we don't have anyone more dedicated," Quinn said. "He approaches hockey like a pro. He takes it very seriously, he's 100 percent committed away from the rink. I think you see the benefits on the ice."