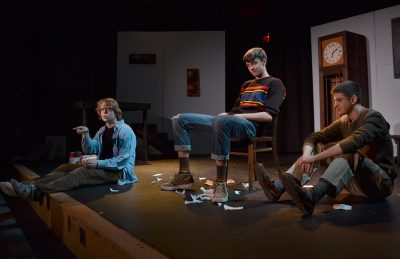 "Stupid F%&king Bird" seems like a stereotypical collegiate production — an artsy, small-scale work that seethes with a lack of originality and overplayed acting. The characters of the play, only seven of them, believe that it is a "rip-off" of sorts, and express such sentiments explicitly over the course of the show.
Any such assumptions, however, would be incorrect. With exquisitely disheveled sets, profoundly raw characters and brutally emotional themes, "Stupid F%&king Bird," running Thursday through Saturday at the Student Theater at Agganis Arena, is a work of mastery from Boston University's Stage Troupe. It is deserving of only the highest praise for everyone involved.
Emotion is, undeniably, the driving force of this powerful steam engine of a play. There is no shying away from the full spectrum of passion, which tiptoes and stomps between gleeful musical numbers and desperate angst.
"Stupid F%&king Bird" solidifies, objectifies and dehumanizes the abstract nature of unrequited love all at once, stifling desire and crippling depression. With such heavy subjects — the program offers a trigger warning — such as attempted suicide and stillborn children, the passion comes from the actors just as much as the script.
In "Stupid F%&king Bird," there is no typical distressed couple or love triangle. Instead, each and every character interacts in a sort of love "sept-angle" in which each person is seeking a different form of passion, affirmation and companionship from one another.
Tension thrives on the strain in an actor's voice, in their body language, or in the mere widening of their eyes, such that the audience feels that they are not only in the room with each individual, but that they in are in the play itself.
Con (Zachary Prescott) is the neurotic lead, serving as the singular point to which all events are somehow tied by origin or by impact. Prescott is profoundly dynamic and demands the audience's attention, transitioning from sardonic humor to commanding desperation with fluidity.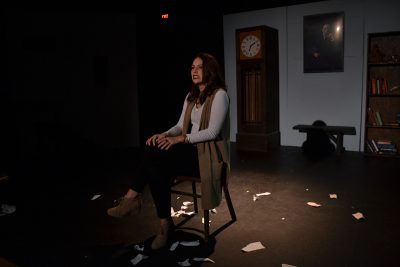 Contrasting Con is Emma, (Mary Kate Heagerty) an actress and also Con's mother. Heagerty flawlessly assumes Emma's self-centered nature, highlighted by the particularly haughty vocal projection and derisive squint of the entertainment industry pseudo-elite. In Emma, there is desperation as well, but it is such that she seeks rewards far more physical than emotional.
In the other characters, there is dedication, humor and passion. Dev (Jordan DeFilippo) Nina (Olivia Wiles), Mash (Tori Mueller), Trigorin (John Kinde) and Sorn (Eli Saracino) all appear as, to some extent, different manifestations of human nature and the overpowering psyche.
DeFilippo presents Dev as endearingly pure, observant and passive, with mannerisms that convey an ingenuity in his attempts to maintain the lightness of the situation. Similarly, Sorn is nostalgic, and Saracino discretely yet distinctly grants him a repressive tendency to remember the "good times," as it were.
Conversely, Mash is nihilistic and bitter, appearing as the bane of her existence. Mueller artfully creates sarcasm in her brief moments of saccharinity. Opposite both essential purity and existentialism is Nina, an aspirational actress who, with Wiles at the helm, pertains to a constant longing not for what could have been, but rather what could be.
And then there is Trigorin, the archetypal professorial type which Kinde portrays with such finesse that there is no question of the pomposity of Trigorin. He, of all characters, is much like the nature of the play as a whole.
According to director Conner Reed, a junior in the College of Communication, the play "takes a classic text, breaks it apart, finds what's still relevant about it and throws it in our face in hilarious, devastating ways."
"Stupid F%&king Bird" is a tremendous work that extracts the emotions of the human condition and lays them all out in front of and amongst the audience. Regardless of one's own moral views and pathological dimensions, there is absolutely no possibility of disappointment.
Disclaimer: Conner Reed is a writer for The Daily Free Press Features section.