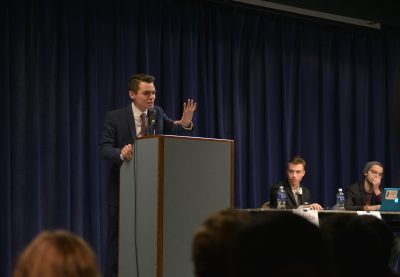 The tension billions have seen played out on a national stage this election cycle made its way to Boston University Sunday evening, when two BU students debated at the George Sherman Union Conference Auditorium in ways attendees could only describe as "a show."
"I thought it'd be interesting to see them, you know, duel it out," attendee Ashley Benson said after the event.
A crowd of nearly 400 students gathered to watch the two debaters, Jake Brewer and Nicholas Fuentes, illustrate the nation's rising frustration two days prior to Election Day Nov. 8 — the choice between Hillary Clinton and Donald Trump.
The debate came in the wake of BU Today's "Who I'll Be Voting For" video series, which featured Fuentes, a freshman in the College of Arts and Sciences, and his plan to enthusiastically vote for Trump.
Alec Dakin, president of the Young Americans for Liberty chapter at BU, moderated the debate. Dakin said he decided to create the event after he saw backlash from the Fuentes' comments in the BU Today video.
"There were just nasty comments," the College of Communication junior said before the debate. "I basically thought that if these kids want to address Nicholas, they could do it in person, here."
In Fuentes' opening statement, he announced that he was at the debate "to give a human face to the last dying breath of conservatism."
"An ideology which champions diversity and pluralism descended like vultures for having a different opinion," he said. "That is called hypocrisy."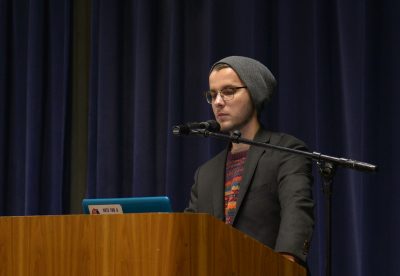 Brewer's opening statement followed Fuentes'. While the CAS senior and president of BU Student Government said he did not vote for Clinton, he also said Fuentes' views are "objectively fascist."
After the brief statements, both sides asked each other pre-provided questions, which resulted in plenty of cheering and booing from the audience, who filled every seat and spilled into the aisles.
A controversial quote from Fuentes' Twitter account — "multiculturalism is cancer" — started off the debate, where Fuentes tried to clarify that he is not racist. He is simply against other cultures, specifically Middle Eastern ones, Fuentes said.
"It has nothing to do with race, everything to do with culture," he said. "Asia has taken our culture and done well for themselves. The Middle East? Not so much."
Brewer retorted back.
"People are allowed to come and go as they please," he said. "All of that is multiculturalism. American culture is not Western culture. We have benefitted for centuries of people of color being here."
"That's a globalist fantasy," Fuentes responded.
Similar exchanges between the two continued for hours, as Fuentes, wearing a red "Make America Great Again" hat, waved his hands in the air. Brewer, occasionally chuckling at Fuentes' comments, said he could help Fuentes look up some terms, such as the definition of fascism.
The audience gasped from time to time, and some of them chose to leave the room.
One topic that repeatedly came up throughout the debate was multiculturalism. Brewer addressed this, saying cultures cannot be arbitrarily compared by a metric of sorts but are all brought together under human rights, an issue "commonplace in international institutions like the United Nations."
"I have a hard time saying that any cultures are equal," he said. "But they are working together to be."
Fuentes said the human rights Brewer spoke of are simply western conceptions.
"You said that human rights are an example of how all cultures are equal," he said. "I think that's ironic. Libya isn't exactly a bastion for human rights. China doesn't do so hot on human rights. Most countries in Asia don't."
A later question addressed Fuentes' website, which says "Donald Trump is more important that democracy."
Fuentes responded — "If Hillary Clinton, by hook or crook, gets elected and shreds our constitution, it's on us to uprise against a tyrannical government."
"How would you incite a rebellion?" someone from the audience shouted.
"With legal, if possible less-than-illegal means," Fuentes said.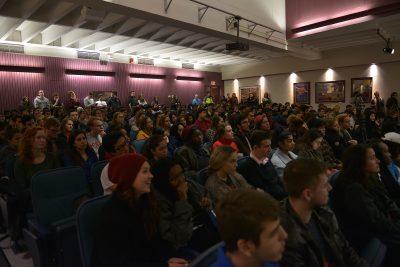 The audience later had the chance to address the two debaters with questions. When a female student told Fuentes that, as a sexual assault survivor, she doesn't understand how anyone can support Trump, Fuentes said allegations against Trump had "holes," and Trump is the best candidate by rationalizing "with my brain, not my heart."
When a first-generation Pakistani student asked Fuentes, "What should disqualify me from being in America?" Fuentes told the room that people like the student are fine, but "We don't need Pakistanis who blow up hospitals."
In response to the same question, Brewer said the United States is responsible for promoting human rights issues across the globe and building an inclusive culture.
"Everyone in American establishment politics is to blame for the treatment of Saudi women. No one's clear of that, including Donald Trump," he said.
Benson, a freshman in CAS, said she came to the event as an opportunity to see someone with a conservative perspective discuss his views in public.
"Because we are on such a liberal campus, I was worried that we wouldn't have the opportunity to attend events with such polar opposite people representing different sides," she said. "I thought this would be a chance to see a really, really different perspective."
CFA freshman Jack Moriarity said he is a Trump supporter and attended to support his friend Fuentes, who was getting "a lot of flack" for the video.
"I came out to support a fellow conservative," he said. "We are such a small minority here. I felt like a lot of what he said, people weren't necessarily listening."
Moriarity said Fuentes was successful in making points that opened the minds of some audience members.
"His points about multiculturalism, globalism and nationalism, and the pros and cons," he said. "A lot of people already had that in their head as racism. I think it was really beneficial to hear both sides of that argument."
After Fuentes left the auditorium, a friend asked him how he had the stamina to speak so passionately for nearly three hours straight.
"If Trump could do it, I can do it," he replied.