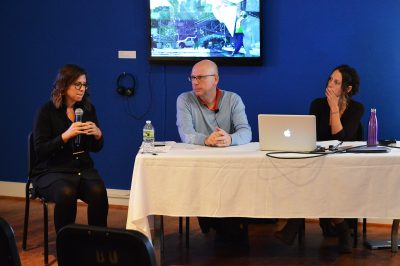 Approximately 20 Boston University students and Boston residents gathered Monday afternoon to listen to a panel discussion about a College of Fine Arts exhibition, "Martine Gutierrez: True Story."
The panel, moderated by Jordan Chaim in the Stone Gallery, discussed topics of gender representation and subversion in video art and photography from a historical perspective, contextualizing the work of Gutierrez within the greater spectrum of queer feminist art.
According to panelist Roy Grundmann, a professor in the College of Communication, Gutierrez achieves subversion of gender identity through masterful use of the medium of video art. Grundmann compared Gutierrez's art to the work of Hollywood directors because she produces videos that subvert the gender norms often exhibited in music videos and ad campaigns.
"On one level, Gutierrez's videos emulate the aesthetic of high-end advertising and music videos," Grundmann said. "On another, she suddenly foils these artifacts."  
Grundmann began the panel with a presentation contrasting artists who also regard the intersectionality of queer feminism among people of color, including Jennie Livingston and Vaginal Davis. He discussed the importance of the transgender lens in discussing gender identity as a social construct and how such a documentary could be seen as dominating.
The second panelist was Erin McCutcheon, a visiting lecturer at Tufts University. She contextualized Gutierrez's work through the body of art created by Hannah Wilke, another artist whose work serves as an exploration of feminist and gender thought.
Another topic covered during the panel was the importance of "self," which was brought in relation to the video art on display created by Gutierrez. McCutcheon said Gutierrez often uses herself as a subject in the creation of her art, though the art is more largely concerned with gender as it affects all individuals.
Both panelists stressed that Gutierrez's work predominantly explores and subverts gender identity through a queer, person of color, intersectional lens. Her art employs a variety of artistic methods to produce videos that can be extremely detailed, colorful and visually tactile, and it is an art that can evoke a nostalgia for the Golden Age of Hollywood in black and white cinematography, McCutcheon said.
As a final comment, Gutierrez, sitting with the audience, talked about the state of gender in art. She encouraged the audience to not just judge an art piece by its craft, but examine it through the lens of gender identity.
Several attendees said they especially appreciated the opportunity to hear from Gutierrez — Rachel Bonner, a first-year graduate student in the Graduate School of Arts and Sciences, said the final question to Gutierrez was thought-provoking.
"It was very provocative especially the end of the exhibition when [Gutierrez talked about] how her work is always filtered through this gendered lens," she said. "I'm still working through that."
Sasha Goldman, a second-year Ph.D. student in the College of Arts and Sciences, said the panel was interesting "in terms of issues of gender and performance."
Sarah Parrish, a graduate writing fellow in CAS, said the panel struck her as particularly relevant to Election Day Eve.
"We're still talking about Hillary as a female candidate, even the hashtag #ImWithHer has really bothered me because that hashtag came into existence when a number of other candidates [were running]," Parrish said. "You couldn't say 'I'm with him' because there were many male candidates. So we're a long way away from that, but I do think that work like Martine Gutierrez's is moving us in the right direction."