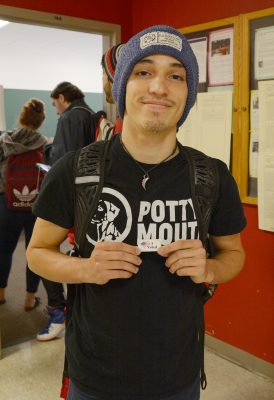 On Election Day, Boston University students, along with other Boston residents, casted their votes at a polling station on BU campus. Although several students said they were excited to vote in their first presidential election, many said they were less than pleased with their options.
Mark Trachtenberg, the precinct election supervisor at the 111 Cummington Mall voting station, said he was surprised by the voter turnout. The station had "been busy," he said.
"It's the heaviest I've ever seen," said Trachtenberg, who has been an election supervisor since 2003. "It's been a very contentious presidential election."
By 4:30 p.m., the precinct had tallied 802 ballots, not including absentee ballots and early votes, Trachtenberg said. He expected the precinct to be busy until it closed at 8 p.m.
Several students explained the importance for them to vote — Emily Roe, a freshman in the College of Communication, said she voted because so many women had fought for her right to do so.
"People should vote because voting is your democratic responsibility and people have died for your right to vote, and as a woman especially, not all women [in history] have had this right to vote," Roe said. "It's really important to come and demonstrate democracy."
Alexis Doreste, a freshman in the College of General Studies, said she was excited to cast her vote because, as a Puerto Rican citizen, she isn't allowed to vote in federal elections back home.
"In an ideal world, [the election] wouldn't be even close," Doreste said. "I feel that Hillary is overqualified. It's insulting that she has to compete with [Donald] Trump, and I'm rather unapologetic in saying that."
Doreste added that she supports Clinton because of her qualifications and background in public service.
"I truly feel like she's dedicated her entire career and life to serving the public," Doreste said. "I agree with a lot of what she says. She's not a perfect candidate, obviously. No candidate is; you just have to own it yourself, but I truly feel that in this election, she's just going to do what is asked of her."
Several other students also said they voted for Clinton. Hannah Giffune, a sophomore in CGS, said she voted for Clinton even though the former secretary of state would not be her first choice.
"I hope that Clinton wins," Giffune said. "However, if I had to choose my first female president, it may not have been her. But I also believe that our future president should not be under charges for sexual assault."
Mykaela Coughlin, a junior in the Questrom School of Business, said she begrudgingly voted for Clinton, even though she is a Republican. As a student in ROTC, Coughlin said she doesn't have confidence in Trump's military strategy.
"Trump's plans for the military would pretty much cause World War III," Coughlin said. "He honestly thinks he has more knowledge than the generals, with what he said about ISIS, and that just obviously makes no sense at all."
Other students cast their vote for third party candidates. Harry Perrault, a freshman in the Questrom, said he chose to vote for Gary Johnson because he was unsatisfied with the Democratic and Republican nominees.
"I just see [Johnson's] policies as better than the other candidates, and I saw the two main candidates as both unprofessional politicians," Perrault said. "The whole point of voting is voting for what you believe in."
Ellie French, Alana Levene, Laney Ruckstuhl and Sophie Will contributed reporting to this article.